Professors' caution over for-profit universities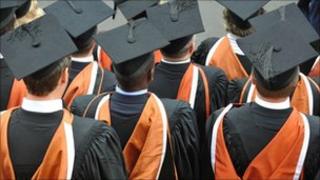 Senior academics in the UCU lecturers' union have said they fear expansion of for-profit universities could damage the reputation of higher education in the UK.
Of 506 professors who responded to an online survey of union members, 85% thought for-profit universities would be of lower quality than public ones.
The government wants to expand the role of private providers in the UK.
It says they can improve choice for students.
There is currently only one for-profit university in the UK, BPP, which is a subsidiary of US-based Apollo Group.
In the University and College Union's survey, carried out between 24 and 28 May, 81% of respondents thought for-profit universities would affect the UK's global standing in higher education.
'Limit degree powers'
A total of 79% feared employers would view qualifications from these universities as less rigorous.
Two-thirds of those questioned said that for-profit institutions should be more tightly regulated than existing universities.
Almost all (99%) said profit-making universities should continue to hold degree-awarding powers on a renewable basis only.
Currently they have to renew these powers every six years, in contrast to public universities, which hold theirs in perpetuity.
A total of 99% of respondents said for-profit institutions should have to provide the same amount of information to the public as their state counterparts.
At present, they are not subject to the same obligation as public universities to provide data on issues such as student numbers, performance and staffing.
And 93% said these universities should have the same obligations to recruit more students from less privileged backgrounds as public institutions do.
'Pure fantasy'
UCU, which has campaigned against tuition fee rises and teaching grant cuts as well as the expansion of private universities, quoted several individual survey respondents.
Professor Anahid Kassabian, from the University of Liverpool, said: "I left a fully marketised system to come here to teach. I know all too well what for-profit institutions do to the quality of education, and it is not good.
"The fantasy of a free market improving quality is just that - pure fantasy, with no substantiation in data or experience."
Professor Daniel Waldram, from Imperial College London, said: "The for-profit model is wholly inappropriate for providing high-quality university education appropriate to the needs of the UK."
And Professor Baz Kershaw, from the University of Warwick, said: "For-profit providers of higher education will increase inequalities of many kinds for future generations of young people."
'Wider choice'
But ministers say there is a place for profit-making and other non-publicly funded universities in the UK.
A spokeswoman for the Department for Business, Innovation and Skills said: "The government wants to encourage a diverse and dynamic higher-education sector in the interests of a better student experience, with a range of providers, such as further-education colleges and others, offering high-quality and innovative teaching, wider choice and good value for students."
The government is expected to outline a framework to allow a wider range of providers to enter the UK higher education market in a White Paper expected this summer.
This is likely to include details of how they would be regulated.
'High standards'
There are currently five private organisations with degree-awarding powers in the UK - the University of Buckingham, the College of Law, Ashridge Business School, IFS School of Finance and BPP Ltd.
The latter is the only one which is for-profit.
Other privately-run colleges can, however, teach degrees that are awarded by publicly funded universities.
Carl Lygo, CEO of BPP University College, said his institution was already subject to a "high level" of regulation in order to maintain its degree-awarding powers.
"All providers, private or otherwise, have a role to play in shaping the future of our global standing in the HE sector, and we strongly believe that the same standards and guidelines should be applied across the sector," he said.
"We welcome a strong, independent regulatory framework that will help to maintain consistent high standards for all students - regardless of the type of organisation," he said.
But UCU general secretary Sally Hunt said the report should act as an "urgent wake-up call" to ministers.
"If the government ignores these warnings, millions of students face being ripped off by private operators whose main interest is their own profits, not education.
"For-profit providers are not the answer to the current funding crisis in higher education."
Aaron Porter, president of the National Union of Students, said it was "vital" that for-profit providers' teaching was "at the same high standard as that in our public sector universities".
"The devastating cuts to higher-education funding risk creating a gap in provision that unscrupulous private providers must not be allowed to exploit in the interests of students and to the detriment of students," he said.
And Labour's shadow universities minister, Gareth Thomas, said "the government's plans to allow unregulated US-style for-profit universities to expand in the UK" raised "the fear of a two-tier higher education system".