Mistakes 'mean some academies overpaid or underpaid'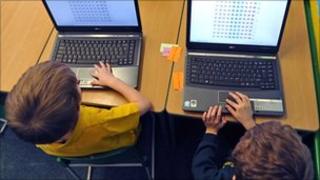 Some new academy schools in England have been given too much money by central government and face having it "clawed back".
Education Secretary Michael Gove says mistakes have been made by local authorities.
Hampshire Council says its academies have been given an extra £300 per pupil even though it followed set procedures.
The government wants all state-funded schools to become academies, which are outside of council control.
Currently about one out of every six secondary schools in England is an academy.
They are meant to be funded on the same level as other state schools, but with the money coming directly from central government rather than via councils.
In addition, they are given an amount of money that would previously have been spent by their local council on their behalf to provide services such as those for children with special educational needs.
To determine the level of funding they receive, councils have to tell central government how much they spend per pupil on such services in their area.
It is in this reporting that the government says errors have been made, but councils dispute this.
'Flawed system'
Mr Gove told BBC Radio 4's Today programme: "There have been individual mistakes made by local authorities in the calculation of their Section 251 returns."
Asked whether officials in the Department for Education had been responsible for any of the mistakes, he replied: "Not that I am aware of."
Mr Gove said the government had been working with a "flawed" system inherited from the previous Labour government.
"There is a problem with the financing of all schools because of the funding mechanism that was designed by the last government," he said.
Officials at the Department for Education said there had been a "small number of cases" where mistakes had been made by local authorities, which could have led to academies being over- or under-funded.
"We don't think this is a big problem for the vast number of authorities," a spokesman said.
Decisions on whether to "claw back" money that had been overpaid would take into account issues such as the scale of the error and the timing, he said.
He said mistakes along these lines had happened in previous years.
"The government has said many times that the system is unfair and unclear, that is why we're proposing changes to the school funding formula," he added.
The chairman of the Local Government Association's children and young people board, Baroness Ritchie, said: "This has arisen because the government has misinterpreted council education expenditure returns for purposes for which they were not intended in the way that it calculates the top-up grant for academies.
"We have made it clear that school choice is something that councils support, but whatever you think of academies, they should be funded on the same basis as other schools."
'Double-counting'
Hampshire County Council says it did what it was expected to - but has now found that its secondary school academies have been allocated an extra £300 per pupil.
That can amount to as much as £300,000 for a big secondary academy.
Councillor Roy Perry, Hampshire County Council's deputy leader and executive lead member for children's services, said: "Hampshire County Council has followed standard accounting and reporting procedures."
In a statement, he said the process used by the government "effectively double-counted and inflated the calculation for Hampshire secondary academies by some £300 per pupil per year".
"Once this issue was identified we took steps to advise schools and also raised this as an issue with the DfE. We are committed to working closely with the Department for Education and the Hampshire family of schools in the best interests of Hampshire."
News of the problems emerged as Mr Gove announced 200 under-performing primary schools would be closed next year and converted to academies, under the wing of top schools.
Labour then tabled an emergency question in the House of Commons on the issue of the mistakes and academy funding.
Its education spokesman, Andy Burnham, said: "It raises a simple question: does the secretary of state have a grip on his budget?
"On the day that serious questions are being asked about whether he has a properly funded plan to back up the rapid expansion of his academy programme, only this secretary of state could be in Birmingham announcing a further major expansion of it."
Mr Burnham added: "Will the minister tell the House how many schools have been over-funded and what is the total amount is that has been paid in error?"
Schools minister Nick Gibb told MPs the government was taking action to sort out problems left by Labour.
At the weekend it emerged that the government was going to "reconsider" an element of its local education funding relating to academies, following a legal challenge by 26 councils.
The councils have begun a judicial review of the decision to deduct £148m from their education budgets.