Government to phase out modular GCSEs from 2012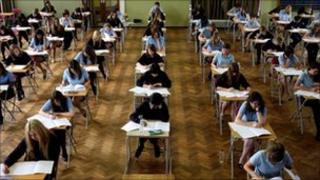 Education Secretary Michael Gove says modular GCSEs are to be phased out, with students starting in 2012 taking all exams at the end of the course.
Currently pupils can sit a series of bite-sized exams as they study a subject.
Pupils starting in September 2012 will sit the exams for all their modules at the end of two years. After that, non-modular courses will be brought in.
Mr Gove said he wanted to end a culture of "resits" which he called "wrong".
He told BBC1's Andrew Marr show that other countries had more rigorous examination regimes and schools in the UK needed to catch up.
"The problem that we had is that instead of sitting every part of a GCSE at the end of a course, bits of it were taken along the way," Mr Gove said.
"Those bits could be resat. That meant instead of concentrating on teaching and learning you had people who were being trained again and again to clear the hurdle of the examination along the way.
"That meant that unfortunately less time was being spent developing a deep and rounded knowledge of the subject."
He added: "I think it's a mistake and I think the culture of resits is wrong. I think that what we need to do is make sure, certainly at GCSE, that you have a clear two-year run."
Last year, Mr Gove signalled his intention to end modularisation, and the education White Paper published in November said the government would consult the exams watchdog Ofqual on how GCSEs could be changed.
On Sunday, the Department for Education said Ofqual would write to exam boards to ask them to implement the changes for students starting in September 2012.
The national curriculum is currently being reviewed, with the first sections of the new version scheduled to come into force in September 2013.
After this, "new GCSEs will be designed that will not be modular - modularisation will end for GCSEs", the DfE said in a statement.
GCSEs are taken by pupils in England, Wales and Northern Ireland, but students in Scotland take Standard Grades.
Brian Lightman, general secretary of the Association of School and College leaders said that repeatedly changing the exam system was "unproductive and unhelpful".
"Constant tinkering" with the system leaves no time for teachers to get to grips with the changes and is costly at a time when education budgets are being cut, he said.
He added that modular systems could have a motivational impact on lower attaining students and were used for many university degrees.