Empty feel at deserted strike-hit school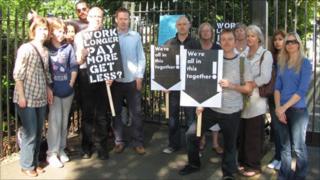 There's an empty, ghost-town feel to Acton High School in west London.
By 8.30am the surrounding streets, local buses and Tube station are usually bustling with students catching up on their way into class.
The grassy field in front of the school's modern building, usually a sea of navy blue and red uniforms, is deserted.
The school is closed because of the national pensions strike by two teaching unions - and it is as if the summer holidays have come early.
But at its electric gates, about a dozen teachers are forming a rather chatty and good-natured picket.
Bathed in sunshine, their placards lean casually against the fence and they don't seem to be bothered by the odd vehicle driving in and out.
Budget cuts
They may look relaxed - as once their head teacher decided to close the school the strike, in some ways, had already partly succeeded - but they are angry.
One young teacher, Will Halsey, says he has worked out, using a calculator on the National Union of Teachers' website, that he stands to lose the value of a two-bedroom house in the area, from the changes being planned.
He says: "In the absolute worst-case scenario - ie all the government's proposals are put into force next April - I stand to lose £328,203 over my life-time."
What he finds particularly galling about the government's public-sector pensions plan is that MPs will be asked to pay far lower premiums than teachers and lecturers.
Steve Kiely, a teacher whose work focuses on trying to bring under-achieving pupils up to a higher standard, says for many people the strike is also about wider issues than the pension.
"Children's Services, the people that we deal with as teachers, are being cut by the council, so increasingly we are having to provide these services out of our own school budgets."
It is 28-year-old Sheba Dhillon's first time on a picket line and also her first on strike.
It is the long-term impact of the proposed pension changes that concerns her.
She fears that worsening teachers' pensions, terms and conditions will lead to a drop in high-calibre candidates wanting to join the profession. And this in turn will harm children's education, she argues.
And there is some sympathy for these teachers' views at nearby Derwentwater Primary School, which remains partially open with some classes closed because of the strike.
'System is wrong'
A steady steam of parents arrives to drop off children on this beautiful summer morning.
One, Anna Ciecko, says: "I think it's good that they fight for their money."
Peminder Grewal, whose daughter is a Derwentwater pupil, says: "The whole system is all wrong. We should look after the teachers more than anyone else because they are helping the future.
"The government has enough money. They have all got good wages. Why should teachers have to suffer because of the government's problems?"
Ireen Esmann, a parent and governor, also believes teachers should be paid well.
She adds: "If they are paid during their teaching career a low wage then there should be a good pension package at the end of that."
Siobhan Oktay has one child at Derwentwater and says the school has done its parents proud with its efforts to remain open.
But she also has children at other schools, including Acton High, that are closed by the strike.
"My daughter is old enough to be at home by herself. She's planning to go shopping and is happy about that, but my son is out on work experience so he is really miffed that he still has to go."
She has some sympathy for the teachers, but cautions: "It's austere times and it seems hard for teachers to say they want a higher pension than other people."
Hunt for childcare
And there is some concern that if the strikes continue, it will be the children who suffer.
Elwira Kozub has a child at Derwentwater school nursery and a 14-year-old at another school closed by the strike.
She says: "I understand the teachers want to strike but for the parents it can be complicated with the day off being during the week."
And there have been reports of nanny agencies and emergency childcare companies being inundated with requests for help.
Amanda Coxen, of national nanny agency Tinies, says demand for nannies has doubled in some of her branches - particularly those based in the south of England.
But the children affected at these schools in Acton seem to be taking the mish-mash of schooling and childcare arrangements in their stride.
As the school bell goes, one little boy rides up to them on his bike with another, who must be his brother, and then does an about-turn.
When the younger boy puzzles why his brother isn't joining him inside, the older boy calls out: "Don't worry. I've got no school today - my teacher's striking.
"But, go on you - you get in to school!"