School lunches take-up increases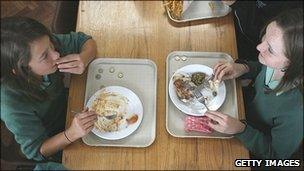 The number of pupils in England eating school lunches has risen for the third year running, data suggests.
The School Food Trust said the continued rise, shown in its annual survey, more than compensated for a fall in take-up following TV chef Jamie Oliver's campaign on food quality.
Take-up in primaries was 44.1%, up 2.7 percentage points on 2009-10, and 37.6% in secondaries, up from 35.8%, it said.
Children's Minister Sarah Teather said the figures were "hugely encouraging".
After Oliver's campaign won huge public support, the government banned junk food from school canteens and vending machines, and in 2006 rules to make food healthier were introduced in English schools.
But school meals take-up initially dropped, before starting to climb again.
Strict nutritional guidelines were made compulsory in primary schools in 2008 and secondaries in 2009.
The School Food Trust said the average price of a school lunch had risen during the past year by 5p, to £1.93, but this was below food-price inflation.
The organisation's chairman, Rob Rees, welcomed the increase in take-up, but said cost remained a concern at a time when funding was tight.
"If we're going to keep school meal numbers rising, we have to keep healthy school meals affordable.
"That means helping schools to grow their market, to get the best deals for their food supplies and services, to protect their kitchens and dining rooms and to operate their catering services efficiently
The figures showed more than 16% of primary schools did not have the facilities to cook hot meals, with food either transported from other locations or menus limited to cold food such as sandwiches.
From April 2011, the School Lunch Grant - dedicated funding for local authorities to use for school lunches - has no longer been ringfenced, although the money is still included in the grants for running schools.
Of the 129 local authorities that provided information, nearly two-thirds said the equivalent funds would still be dedicated to school food, but one in five said there was no commitment to ringfence the money in future and one in 10 had not yet decided.
Local Authority Caterers Association head Sandra Russell said she was "pleased" with the increase "particularly at a time when parents are having to watch every penny".
"It is absolutely critical that at this time of public sector austerity measures, we do all we can to ensure the now un-ring-fenced School Lunch Grant continues to be channelled towards catering and that school meals remain high quality, nutritious and above all, as affordable as possible for parents," she said.
Children's Minister Sarah Teather said: "Healthy eating has a direct impact on behaviour, concentration and ability to learn in schools, so these are hugely encouraging figures - the fastest year-on-year rise in take-up since junk food was banned and tough nutritional standards were introduced."
The School Food Trust is losing its status as a public body, as part of ministers' drive to cut quangos.
But Ms Teather said the government would support it in setting up as an independent, not-for-profit social enterprise "to carry on its outstanding work driving up the quality of school meals".
Related Internet Links
The BBC is not responsible for the content of external sites.