Head teachers complain of 'erratic' Sats marking
By Katherine Sellgren
BBC News education reporter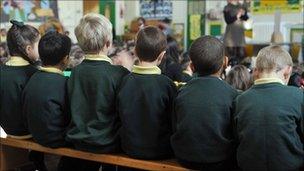 More than 1,000 head teachers in England have raised concerns about problems in the marking of this year's primary school Sats tests.
A survey by the National Association of Head Teachers found 1,025 heads were unhappy with the marking of one of the English papers taken by 11-year-olds.
The association carried out the survey after angry complaints from schools about the quality of marking.
The Department for Education says test markers are fully trained.
The accuracy of the Sats results is important to both schools and pupils - as they are used to rank schools for league tables and can influence the ability bands for pupils beginning in secondary school.
The NAHT sent out the survey to 10,000 members last week and the full results will be collated on 15 July when the poll closes.
It said the response to the survey had been "unusually strong".
Before the closing date for the survey, 129 head teachers had reported "mild" problems, 384 "moderate" problems, 350 "severe" problems and 162 "outrageous" problems.
One head teacher said: "The upper ability children have been marked down.
"We normally get circa 25% Level 5s. This year we have 2%. Our total Level 5s in English is now 5%."
Another school leader said: "The marking of the writing papers was erratic in the extreme.
"A vast number of papers have been under-marked according to the mark scheme, while a few have been over-marked."
Another said: "It is incomprehensible to us how five pupils, clearly working at Level 5 all year and demonstrating their skills well in the test, have been marked so harshly on the longer writing task.
"The application of the mark scheme seems erratic at best and bizarre in some places."
The BBC has also received dozens of e-mails from heads angry at "inconsistencies" in marking.
The concerns centre on a section of the English test, where pupils are asked to produce a piece of creative writing - an area which has attracted complaints in recent years.
A recent review called for this part of the test to be scrapped and replaced by teacher assessment.
NAHT general secretary Russell Hobby said although the survey did not include the experience of all schools, the association believed it was representative.
"Head teachers are very upset about the marking," he said.
"They and their students have put in an immense amount of work and it's not then rewarded with a level of quality at the other end.
"Students and schools depend on these results and we expect a high standard. They are finding a lot of inaccuracies: students that they would have expected to get high or low marks not getting them - and a lot of inconsistencies."
Head teachers have until Friday 15 July to request a formal review if they wish to question the marks given.
Schools pay £9 per returned script and get the money back if their appeal is successful.
A spokesman for the Department for Education said: "Children have the right to have their papers fairly marked. Key Stage 2 test markers, who are practising or retired teachers, receive thorough training and undergo a number of quality checks through the marking process.
"Ofqual regulates Key Stage 2 tests and has said it they will continue to monitor and safeguard the quality of marking.
"We are currently considering Lord Bew's recommendations as to how we can improve our testing and assessment system."
He said details of the total number of requests for remarks would be published later in the year as official statistics.
Last year, the NAHT, along with the National Union of Teachers, was involved in a boycott of Sats - action which affected about a quarter of England's schools.
The unions said the tests did not give a true picture of pupils' attainment, encouraged teaching to the test and put pupils under pressure.
The English Sats paper has attracted criticism in the past - and generally accounts for most of the requests for re-marks.
Figures published in November on appeals against last year's Sats results showed there were requests for "reviews" of 23,438 test scripts - mostly for English.
In about one in 10 cases, a new grade was given.
In 2009, appeals covered more than 27,000 papers at 5,000 schools.
Again, a higher grade was eventually given in about one in 10 cases.
Related Internet Links
The BBC is not responsible for the content of external sites.