New standards for teachers include tolerance and respect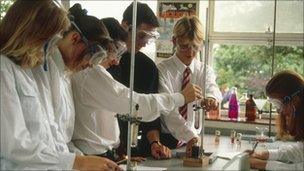 New professional standards for teachers in England say they must show tolerance and respect for the rights of others and not undermine "fundamental British values".
They will come in from September next year, following an independent review of the skills teachers should have.
The government says they are a key part of continuing to raise standards in teaching.
Teachers say the standards are vague and another stick to beat them with.
But head teachers have welcomed them.
The new rules say teachers must "uphold public trust in the profession" and maintain high standards of ethics and behaviour in and out of school.
They "must not undermine fundamental British values, including democracy, the rule of law, individual liberty and mutual respect and tolerance of those with different faiths and beliefs".
It adds that teachers should make sure their personal beliefs "are not expressed in ways which exploit pupils' vulnerability or might lead them to break the law".
The government says it is replacing an "old, ambiguous and vague system" with new standards which are "practical and clear about the competencies that all teachers should have".
It says the standards will help head teachers assess teachers' performance; make it clear that teachers need to be able to tackle bad behaviour and "are able to teach the core basics of reading and writing, including understanding systematic synthetic phonics".
The Education Secretary Michael Gove had previously complained that it was too difficult for head teachers to get rid of poor teachers.
Sally Coates, the principal of Burlington Danes School in west London, chaired the review on which the standards are based.
She said: "Nothing has more impact on a child's achievement than the quality of teaching they receive and in the new standards for teachers we have prioritised the importance of classroom practice and subject knowledge.
"I hope the review's recommendations will ensure the benchmark for entry to the profession is rigorous and firmly based in teaching."
The new guidance lists eight standards for teaching and three for personal and professional conduct, replacing longer lists.
Those relating to teaching say teachers must set high expectations of pupils; show good subject knowledge; plan and teach well-structured lessons; promote good progress among pupils; adapt their teaching to meet the needs of all pupils; make good use of assessment; manage behaviour and fulfil their wider responsibilities to school life.
Those about conduct say teachers should maintain high levels of ethics and behaviour; have proper regard for the practices of their school, including good attendance and punctuality and be aware of and act within guidelines on their professional duties.
Chris Keates, the general secretary of the NASUWT teachers' union, said: "Professional standards for teachers are about defining appropriate skills, knowledge and understanding. However, the new standards conflate and confuse these with a code of conduct, demonstrating the punitive mindset this coalition has towards teachers.
"The new standards are vague, poorly drafted, lack clarity, are open to wide interpretation, will breed confusion and uncertainty and will simply serve as a stick with which to beat teachers."
Christine Blower, the general secretary of the National Union of Teachers, said some of the recommendations covered essential skills and knowledge needed for teaching - but that standards on these already existed.
The National Association of Head Teachers said the new standards were "a welcome foundation on which to build better practice".
Related Internet Links
The BBC is not responsible for the content of external sites.