Teachers' anger at increase in pension cost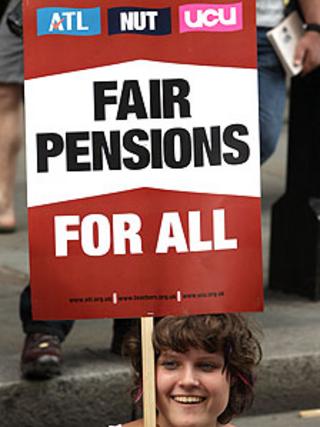 Teachers' unions have raised the prospect of further industrial action amid angry responses to proposals for higher pension contributions.
"Members have taken strike action before to defend their pensions and will do so again," said NUT leader Christine Blower.
The proposals mean that an experienced teacher earning £35,000 per year would contribute an extra £341 per year.
Schools Minister Nick Gibb said the plans are "fair and sustainable".
Along with other public sector workers, teachers are being given details of proposed changes to how much money they will have to pay into their pension scheme.
For teachers in the most typical pay band - £32,000 to £39,999 per year - contributions will rise from 6.4% to 7.6%.
'Last straw'
But the announcement has prompted an angry response from teachers' unions, who reject the government's plans for public sector pensions.
They have argued that teachers are being forced to pay for the banking crisis and deficit.
"It has nothing to do with the affordability or sustainability of teachers' pensions, it is a tax on teachers to pay for the mistakes of others," said Russell Hobby, general secretary of the NAHT head teachers' union.
"The proposed increase in pension contributions is about plugging the hole in the deficit created by the banking crisis, it's not about making the pension scheme affordable in the long term," added Malcolm Trobe of the ASCL head teachers' union.
"All indications are that the teachers' scheme is already self-sufficient with contributions at the current rate."
And he warned: "This may be the last straw for the education sector."
Teachers' unions staged a one-day strike over pensions in the summer term - and last week the ATL and NUT warned of further industrial action in the autumn, if no agreement had been reached with the government.
The strike disrupted 12,000 schools in England and Wales - with teachers protesting against changes which they said would mean higher contributions, longer years of working and lower payments.
'Cynical'
In response to the details of proposed increases in contributions, the NUT general secretary, Christine Blower set out her opposition.
"Beginning a formal consultation over the political recess when there will be little chance for scrutiny will be regarded, quite rightly by teachers as a cynical move," she said.
"We cannot allow this ruthless dismantling of our public sector pensions to go ahead."
ATL general secretary Mary Bousted said: "It's clear that the proposed contribution increases are simply a way of raising money from teachers and lecturers to go to the Treasury, not towards pensions. We don't think this tax on teachers is fair."
Chris Keates, leader of the NASUWT, said it was "grossly unjust" that teachers would be paying through their penions an "additional tax for a financial crisis they did not create".
'Fairer balance'
The Department for Education has set out how pension changes would affect contributions by a range of teaching staff.
It shows that a newly-qualified teacher, earning £21,000 per year, would pay an extra £126 per year.
But because pension contributions are taken before income tax is deducted, the department calculates that these entry-level teachers in effect would pay £103 more per year.
A head teacher earning £100,000 per year, on this calculation including income tax, would pay an extra £1,206.
Schools Minister Nick Gibb promised that "the Teachers' Pension Scheme will remain one of the very best available in the public sector".
"However, people are living longer and this makes pensions more expensive. Lord Hutton made it clear that there needs to be a fairer balance between what employees and taxpayers contribute towards public service pensions," said Mr Gibb.
"It is right that we ask public sector employees to pay more towards their pension to ensure they are affordable for future generations of teachers."
Proposed changes for teachers' pensions, 2012-2013:
Source: DFE