Teachers in fresh strike ballot over pay and pensions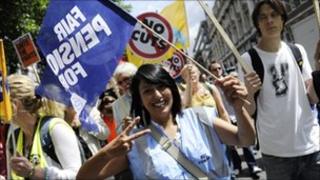 A teachers' union is to ballot its members in England and Wales on industrial action over pensions, pay, working conditions and jobs.
The NASUWT teaching union says the ballot could lead to strike action by up to 250,000 school staff this term.
Its general secretary Chris Keates says ministers were riding roughshod over measures to support teachers and raise standards.
The government insists its changes are about improving education.
A Department for Education spokesperson added: "Industrial action could harm pupils' learning, inconvenience parents and damage teachers' professional reputation. We urge the NASUWT leadership to step back from this course."
Ms Keates argues that teachers have faced "relentless attacks on their pay, pensions and working conditions" over the past 15 months.
"They are buckling under the weight of excessive workload. Their ability to focus on teaching and learning is being seriously compromised as the coalition government rides roughshod over guidance, regulations and contractual provisions which were introduced to support teachers to work effectively to raise standards," she said.
The NASUWT says its members will be asked to vote for a programme of industrial action short of strike and for strike action to challenge excessive workload and attacks on working conditions, pay, pensions and jobs.
It comes several months after the National Union of Teachers and the Association of Teachers and Lecturers took part in a one-day strike over cuts to their pensions. The strike closed thousands of schools and classes.
They argue changes to their pensions will leave them working longer, paying more and getting less.
'No progress'
But ministers have said any changes to public sector pensions will be fair and affordable to the nation.
NUT general secretary Christine Blower said her union's own negotiations with the government had so far made no progress but that there were plans for a lobby of Parliament next month.
She added: "The decision by yet another teaching union to ballot over strike action demonstrates quite clearly that the government has lost the argument over pensions.
"Despite the numerous opportunities that the government has had to negotiate fairly on public sector pensions they have persistently refused to listen to the facts.
"Teachers' pensions are affordable and sustainable. We cannot stand by and see them eroded for purely political reasons."