Head teachers announce ballot date for pensions strike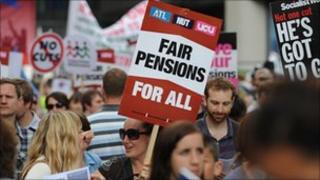 A head teachers' union is to ballot members for what would be its first ever strike, in a dispute over reductions to their pensions.
The National Association of Head Teachers' ballot will run from 29 September until 9 November.
This could see heads joining other public sector staff in a protest against pension cuts on 30 November.
The NAHT represents heads and senior staff, particularly in primary schools, in England, Wales and Northern Ireland.
If heads back the call for strike action, it would be the first such strike in the union's 114-year history.
Schools closed
Russell Hobby, the union's general secretary, said: "No school leader wants to strike and it is a symbol of their anger over this issue that they are even considering it as an option. For many, the attack on pensions is more than a question of attacks on individual retirement plans but a threat to the future of education itself."
The ballot means that schools could face disruption during the autumn term - and this could become part of wider co-ordinated action against controversial changes to public sector pensions.
The NASUWT teachers' union is also preparing for a ballot for industrial action - expected to be in the autumn term.
During the summer term, a one-day strike over pensions by the National Union of Teachers, the Association of Teachers and Lecturers and the University and College Union saw an estimated 12,000 schools and colleges being closed or facing disruption.
The announcement of the head teachers' ballot date is against a background of continuing talks between unions and the government to settle the pensions dispute.
A Cabinet Office spokesman said: "We are totally committed to genuine engagement with the unions. We have a lot to talk about and there are proposals on the table for discussion."