US dominates university global rankings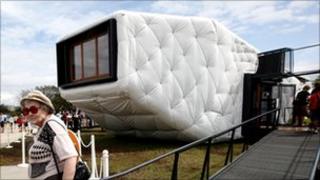 Three out of the top 10 universities in the world are in the UK, according to a global list headed by US universities.
The world rankings, produced by the Times Higher Education magazine, places 75 US universities in the top 200.
The California Institute of Technology was in first place - and the highest in the UK was Oxford in fourth.
Universities Minister David Willetts said the list showed that relative to its size, the UK's university system was the "world's best-performing".
These World University Rankings show the US and UK as the two biggest players in this list of leading universities.
There are 32 UK universities in this top 200, an increase on last year - although the number of UK institutions has fallen in the top 100. Oxford, Cambridge and Imperial College all make the top 10.
California dreams
Harvard often appears at the head of such international comparisons - including the rich list - but in this case it has been pushed down into joint second place by the California Institute of Technology.
This Pasadena-based specialist science technology centre - often known as Caltech - is a relatively small institution, with about 2,000 mostly graduate students and almost 500 staff.
By comparison, Oxford has about 21,000 students.
In equal second place is another Californian institution, Stanford. This university has been at the heart of Silicon Valley digital developments, including being the launchpad for Google, which began as a Stanford research project.
A recent report from the OECD highlighted the "clustering" of so-called "knowledge hubs" - and including the University of California, Berkeley, it means that the single state of California has three institutions in this global top 10.
The Boston area, another such research hub, has two institutions in this top 10, in Harvard and MIT.
This ranking list is dominated by English-speaking institutions - with the science-based ETH Zurich in Switzerland the only non-English speaking university in the top 20. Outside the UK, there are only four European universities in the top 50.
There are many different university rankings published - none of them are "official" tables - and they are not based on results in the way that school league tables are based on exam results.
And there are wide variations in these rankings, depending on the type of criteria that are used as measurements.
These latest rankings include measures such as research income, staff-to-student ratio, PhDs awarded, the citation of research and it rewards those with a high proportion of international staff and students.
Although university leaders have sometimes been sceptical about such rankings, they have become more important for marketing purposes, particularly when recruiting overseas students.
'Fraught with difficulties'
"With as many as seven million students predicted to be studying outside their home country within the next few years, and with international research collaboration at the top of government agendas, these world university rankings are more important than ever," said Ann Mroz, editor of Times Higher Education.
Wendy Piatt, director general of the Russell Group of universities said: "Ranking universities is fraught with difficulties and we have many concerns about their accuracy."
But she warned that UK universities' success against international competitors depended on funding.
"We certainly can't rest on our laurels. Our global competitors are pumping billions into higher education and snapping at our heels. Money really matters," she said.
Paul Marshall, executive director of the 1994 Group of universities, also highlighted funding worries.
"UK universities are facing budget cuts, despite the new fee regime. The sweeping reductions to capital grants will make it harder to invest in the facilities that make our universities world leaders."
On Tuesday, Oxford vice-chancellor Andrew Hamilton warned that a lack of funding meant that the UK's universities would struggle to compete for the best research students in the "global market for talent".