Education unions' concern over youth unemployment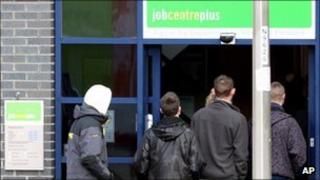 Education unions are urging the government to put the issue of youth unemployment at the centre of the political agenda.
The concerns come as figures from the Office for National Statistics show the jobless total for 16- to 24-year-olds has hit a record of 1.02 million.
Government cuts and moves to axe grants for young people are damaging their prospects, union chiefs warned.
Business Secretary Vince Cable said he took the problem "very seriously".
The University and College Union urged the government to deliver policies to help young people without work.
General secretary Sally Hunt said: "Youth unemployment hits one million at a time when young people's access to education is being restricted.
"In order to help young people we need to be bringing in policies that encourage them get on, not erecting financial barriers to education.
"Aside from the financial cost of consigning hundreds of thousands of people to the dole queue, we risk producing a generation with few prospects and little chance to alter their situation."
The National Union of Teachers said the latest figures were "shocking" and accused ministers of attacking young people's life chances with the axing of the education maintenance allowance (EMA) and increased university tuition fees.
General secretary Christine Blower said: "The coalition must put reducing youth unemployment at the centre of the political agenda.
"We need to see practical support and help for students such as vocational training and apprenticeships that are linked to guaranteed employment for those who complete them.
"It is a disgrace that it is almost as expensive to keep a young person out of work as it is to create a job for them. Young people are the future."
'Appalling' figures
Martin Freedman, head of pay, pensions and conditions at the Association of Teachers and Lecturers said: "It is all too convenient for the government to blame the truly appalling youth unemployment figures on the eurozone crisis.
"But it is this coalition government's policies and paucity of thought have led to more than one young person in five being without a job.
"By cutting the EMA the government has stopped young people from less well-off homes being able to afford to stay in education.
"The government's sole policy for dealing with youth unemployment, increasing apprenticeships, is clearly in trouble given the lack of economic growth.
"And next year the huge increase in student fees will undoubtedly put many young people off going on to university."
'Crisis'
The National Union of Students said there was a crisis in youth unemployment and the government needed to take concrete action immediately.
Vice-president Toni Pearce said: "It is not enough to simply tell young people to wait until things improve as they watch their futures slip away.
"Evidence shows that when young people fall into unemployment that it holds them back for the rest of their lives."
The business secretary said the government was taking concrete action, including the expansion of an existing government-backed apprentice scheme to bring down youth unemployment.
"It's a very serious problem and we take it very seriously," Mr Cable said.
"It's longstanding and it's deep-rooted and there's no silver bullet.
"But it certainly is a very serious problem and we don't want to get into a position where significant numbers of young people can't get into the labour market because they haven't got employment backgrounds."