Childcare: Mothers 'fear playgroup cliques'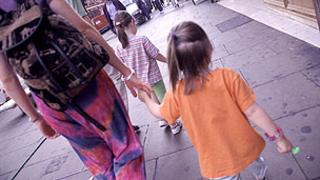 Mothers in deprived areas are put off from playgroups by fears about cliques of other mothers - or because they think they are not from the "right social class", research suggests.
A study from Bristol University has been trying to find out why families most in need of help are often the least likely to use children's centres.
It found one in four had gone once - and then had never gone again.
Worries about not fitting in were claimed to be more important than cost.
Funded by Barnardo's and the Economic and Social Research Council, the study by Sue Jones has attempted to tackle a longstanding question in services for young families: what stops the most needy parents from taking advantage of the children's services and the mother and toddler groups that are there to support them?
'Dirty looks'
Dr Jones, from the university's School for Policy Studies, says her research suggests mothers are deterred by anxieties over the social experience and a lack of self-confidence, rather than the location or cost.
"Picture this. You are going to a mother-and-toddler group for the first time. You walk into a room of strangers who know each other - a scary experience.
"You may have nothing in common with the other mothers. Will they talk to you? Will you feel like a lemon? Or, worse still, will you be criticised behind your back or given dirty looks?"
The study was based on the experiences of 30 parents - 29 mothers and one father - in a deprived area of Bristol, who between them had experience of 97 different groups for families with young children.
The research found that one in four had been once to a group - and had been so uncomfortable that they had never gone again.
The most typical reason had been because of a sense of social unease - either because other parents were "too stuck up" or "too rough".
There were fears of being excluded by established "cliques", or facing unpleasant comments.
'Phobic'
One in five were "phobic" about encounters with groups of other parents. These parents tended to be the poorest, with the least qualifications and the lowest self-esteem.
A single "dirty look" could be enough to deter them from any return to use childcare services.
Dr Jones says that one mother did not even make it past the front door, but had turned round and gone home when she was put off by the perceived attitude of another parent.
This is a study of a small group of parents, but Dr Jones says it is likely to be indicative of a wider problem.
It suggests that the parents with multiple problems - low-income, depression, poor employment prospects and qualifications - were the least likely to have the social confidence to take advantage of the help on offer.
Those making the most use of such mother and toddler groups tended to be those who already had the social skills, confidence and support networks.
There were also suggestions of what playgroups could do to remove such fears.
Sure Start centres were seen to attract a wider range of social groups than voluntary organisations, says Dr Jones. This could be because they had paid staff and were less likely to be dominated by one group of parents.
They also sometimes had a designated "welcomer" to give new arrivals more confidence.
Another way of preventing cliques, she says, has been to run playgroup sessions in limited blocks of time, six or eight weeks, so that parents would not develop into networks that would be off-putting to newcomers.
"My study has found that going to a group can be a daunting experience, especially if a mother doesn't know anyone there," says Dr Jones.
"The mother and group need to 'fit' together. Mothers need to feel that others in the group are her social equals, with similar values and attitudes to child-rearing.
"Mothers need to feel their age, social class, and their or their child's ethnic identity will not isolate them in a group."