Few people feel part of 'traditional' families
By Judith Burns
Education reporter, BBC News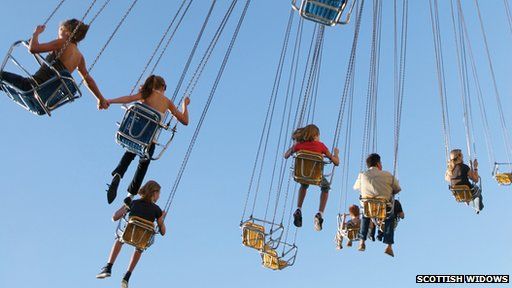 Fewer than a fifth of people think they are part of a traditional family, suggests research by a think tank.
A survey found eight in 10 people thought their families did not conform to the stereotype of two married parents with two or more children.
Half said their family is unrepresented by politicians and the media.
There were interviews with 3,000 people for the inaugural report from The Centre for the Modern Family, launched by insurance firm Scottish Widows.
The report indicates that family structures are becoming increasingly diverse. A quarter of couples are childless and a fifth of the population lives alone.
The survey suggested that people are increasingly likely to view single-parent, same-sex or unmarried couples as "proper" families.
The 77% believe single parents can be a family and 59% believe same sex couples can be a family.
However a significant minority disagree. Around a third consider unmarried couples and same sex couples not to be "proper" families - and almost a fifth feel that single parents are not a "proper" family.
The report identifies and coins names for a variety of new family types - from the "Born and red" who are very open in their views of what a family should be - to the "Groan ups" who have a more traditional outlook.
Half those surveyed believe society is out of date in its view of the family. A quarter think businesses do not cater for their type of family, more than half think the government fails to take their family set up into account and that their family is not portrayed on television or in advertising.
Professor Tanya Byron, said: "Family is the spine of society... at a time of continued social change and as the financial squeeze on families gets ever tighter, the Centre for the Modern Family aims to improve understanding, and ultimately strengthen families, in all their varied forms, across the country."
Related Internet Links
The BBC is not responsible for the content of external sites.