UK university applications in late surge, says Ucas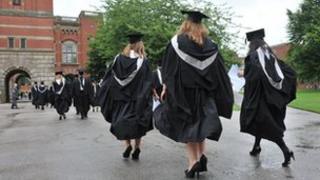 There has been a late surge in university applications for the UK, according to Ucas, but total numbers are still down on this time last year.
Applications from people wanting to go to university in 2012 picked up last month despite the trebling this year of maximum tuition fees.
However, applications are still down by more than 22,000 (6.4%) compared with this time last year.
In November there was a 12.9% year-on-year fall in applications.
The latest figures - for December - were released by Ucas, which co-ordinates applications.
The chief executive of Ucas, Mary Curnock Cook, described the figures as evidence of "a late surge".
She said applicants were taking longer to research their choices but that the flow had speeded up.
The deadline for applications for anyone wanting to go to university in 2012 is 15 January. Ucas will release final application figures on 30 January.
If this is a sign of an upturn, it is against many of the expectations of a slump in applications in the wake of concerns about the increase in tuition fees of up to £9,000 a year from 2012 in England.
Fees are also rising up to this maximum level in other parts of the UK, although students in Scotland, Northern Ireland and Wales who stay in their home nation to study will not be affected.
The latest Ucas figures show the picture in applicants and applications up to 19 December.
UK application fall greater
Ucas chief executive Mary Curnock Cook said: "Evidence of a late surge as the 15 January deadline approaches is now emerging. Applicants are taking longer to research their choices but the applications flow has speeded up, as these statistics show.
"It remains too early to make predictions about the final year-on-year figures but we will be able to get a clearer picture after the deadline has passed."
The Ucas figures relate to all applications made to universities in the UK from both the UK and overseas and overall, they show these are down by 6.4% (22,000) on this time last year.
Most of this fall appears to be due to UK-based applicants, which are down 7.6% (23,000).
In total, there are 283,680 applicants from the UK, compared with 306,908 at this stage last year.
There is also a fall in applications from other European Union countries (down 11%), while applications from people from countries outside the EU are up 13% - from 21,000 to just under 24,000.
University think-tank million+ warned that there has been a large downturn in applications from mature applicants.
Its analysis shows a drop of 13.4% in the number of applicants aged 21 or over in December compared with the same time a year ago.
Professor Les Ebdon, chairman of million+, said: "Rather than breathing a sigh of relief that application figures appear to be recovering, ministers need to launch a campaign to ensure that older students understand the loan system and the opportunities available".
Universities UK chief executive Nicola Dandridge said: "As expected, December saw a significant increase in applications. It is very possible that the increase in applications will now continue right up until the 15 January 2012 deadline.
"It is reassuring to see that the numbers of applications are recovering. But we will need to look closely at the January figures to see how they compare to last year, and specifically whether any particular groups of applicants have been affected by the changes to the funding system."