Young Neets dropout rates edge up as EMA is scrapped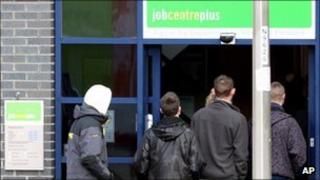 The proportion of 16- to 18-year-olds not in education, employment or training (Neet) rose slightly when the education maintenance allowance scheme was scrapped, official figures show.
Some 178,000 youngsters were classed Neet in the last quarter of 2011 - up one percentage point on the same period of 2010.
The figures for England coincide with the axing of the EMA for new starters.
A government spokesman said £1bn was being spent on tackling the issue.
He added: "The number of young people who are not in education, employment or training has been too high for too long - we are determined to bring the numbers down.
"We are making sure that young people have the skills they need to get ready for work - creating the biggest apprenticeships programme our country has ever seen and overhauling vocational education, so all employers can be confident about the rigour of our qualifications."
'Lost generation'
But James Mills, head of Save EMA campaign, said: "Today's sad news that the number of Neets is up is further proof that scrapping the EMA was a massive mistake by this government.
"Previous final quarter figures have shown a steady decline in the number of Neets and are indicative proof that EMA worked.
"By scrapping EMA this government is creating a lost generation of young people and these figures are proof that there is now a growing invisible army of teenagers who have been cut loose by this government's decision to scrap EMA."
EMA was paid 16- to 18-year-olds on lower incomes to encourage them to stay in education.
But ministers said it was an inefficient and ineffective scheme, and replaced it with a "more targeted" £180m Bursary Fund, which is at the discretion of colleges and schools.
Overall, the latest figures show 958,000 young people aged 16 to 24 are not in school, work or training in the final quarter of 2011. That is one in six 16- to 24-year-olds.
It compares to the nearly one in five or 1,163,000 young people in this age group that were considered out of education, employment or training in the third quarter of 2011.
But historically Neet figures are very much seasonally affected by the academic year and are always at their highest over the summer holidays.
The IPPR think tank said its analysis showed the Neet figures for 2011 as a whole were the worst since records began in 2000. The average Neet level during 2011 was over one million for the first time.
A recent Barnardo's report, Staying the Course, found that since the replacement of the Education Maintenance Allowance with the Bursary Fund, some students are now being forced to skip meals just to afford the bus to college.
The charity's chief executive Jane Stacey said: "More investment is needed to ensure that students from poorer backgrounds can actually afford to stay on in education and training."