Literary heroes join World Book Day party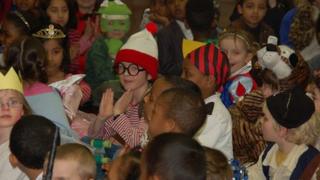 Half a million children in 21 countries are joining top children's authors in events to celebrate World Book Day.
Authors including Jacqueline Wilson and Eoin Colfer are part of a live online book show being streamed into thousands of schools across the world.
World Book Day was set up in 1995 by the UN's cultural and educational arm.
At Derwentwater Primary School in west London, teachers said the day was a welcome chance to focus on literacy.
The event includes a reading from the actor Bervie Carvel, who plays Miss Trunchbull in the Royal Shakespeare Company's version of Roald Dahl's Matilda.
For primary pupils, the day is also an opportunity to ditch their school uniform and instead go to lessons dressed as a favourite book character.
Felix, aged 11, came to school dressed as as Alex Rider from the Anthony Horowitz novel Scorpia Rising.
"It's a good opportunity to get together and talk about our favourite books. Today we got to dress up as our favourite characters, which was a great opportunity for everyone", said the Derwentwater pupil.
In character
Acting assistant head teacher Lisa Elwell explained that this year there had been fewer superheroes among the costumes than in the past.
"We encourage them to tell us both what their character is and which book it comes from," said Ms Elwell.
"Otherwise it is possible to lose the relationship between the character and the book."
The older children had written and illustrated their own books to read to the younger ones.
Teacher Natalie Carson explained that the challenge for them had been to temper their vocabulary so that the four-year-olds could understand every word.
Aswan, aged 11, dressed as Hermione Grainger from the Harry Potter series, said: "Book Day is good because it helps you discover different books that have been written from around the world."
Omar, six, dressed as Tigger from Winnie the Pooh had clear literary tastes. "I like atlases and non-fiction books because I like reading things that are true," he said.
Meanwhile a survey for the Literacy Trust suggests that many parents do not realise how important it is to read with their child daily.
The survey, carried out by OnePoll, showed that 15% of parents in lower income brackets thought teachers had the biggest influence on literacy.
The survey of 1,000 parents was carried out last month.