'Flawed' behaviour units 'should become academies'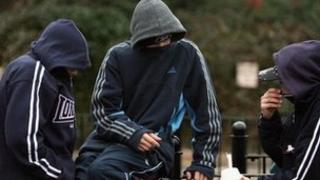 Referral units for disruptive pupils who have been removed from mainstream schools in England should become academies, says a review by the government's behaviour expert.
The review by Charlie Taylor also argues that teacher training should take place in pupil referral units.
He also calls for improvements in the inspection of lessons outside school.
Mr Taylor warns there is a "flawed system" for teaching such pupils with behaviour problems.
The report examines ways to improve the education of about 14,000 pupils attending pupil referral units and 23,000 in other forms of "alternative provision".
'Chaotic homes'
The children sent to pupil referral units are mostly boys, eight out of 10 have special needs, and he says many are from "chaotic homes" with problems with alcohol, drugs and violence.
"We currently have a flawed system that fails to provide suitable education and proper accountability for some of the most vulnerable children in the country.
"If we fail to give them a first-class education then, as the events of this summer showed, we will all pay a heavy price," he said, referring to last year's riots.
In proposals set to be accepted by the government, he recommends that teacher training should be allowed to take place in referral units, to develop more staff with experience of working with such challenging children.
The government-commissioned report calls for schools to have greater power over the funding and commissioning of services to help disruptive pupils.
He warns that there can be a patchy quality of education, with some settings having a "holiday camp" atmosphere, with no academic challenge.
Mr Taylor says that even though they are being taught outside mainstream lessons, all pupils should continue to be taught English and maths at an appropriate level.
He also wants to have more teachers with specialist skills in managing behaviour - and suggests that teacher practice and work-based training could take place in pupil referral units.
'Vulnerable'
The report highlights a lack of consistency in the inspection of the provision for pupils being taught outside regular classrooms.
"It is essential that the inspection of AP (alternative provision) for a vulnerable child with special needs is as rigorous as it would be for a mainstream school," the report recommends.
It also warns of gaps in coverage - such as independent providers which are so small that they are below the requirement for registration with the Department for Education and as such are not inspected by Ofsted.
"This means that children can be placed in inadequate or dangerous provision without there being any external monitoring," says the report.
The government has been pressing mainstream primary and secondary schools to convert to academies - and this report also calls for referral units to be turned into academies.
Academies operate outside the local authority system, either as free-standing schools or part of chains run by external providers.
Unconvinced
This report also suggests a system with a reduced role for local authorities.
The report says that pupil referral units (PRUs) should be "removed from local authority control, by becoming academies where possible and closure where it is not".
Head teachers' leader Brian Lightman said he was unconvinced by the academy plans.
"We do not see how removing PRUs from local authority control will improve standards or ensure that the needs of all children in an area are catered for," said Mr Lightman, general secretary of the ASCL head teachers' union.
"It is essential that local arrangements are co-ordinated, otherwise some young people will remain off the radar with potentially disastrous consequences."
Shadow education secretary Stephen Twigg said: "It is easy to say we need to target bad behaviour early, but the Tory-led government is making it harder by cutting the budget for early intervention and overseeing a reduction in funding and teaching provision for children's centres."
NUT general secretary Christine Blower said provision for pupils with emotional and behavioural difficulties had historically been subjected to relentless re-organisation and change.
"What is needed is stability not more change. PRUs must be at the heart of local authority maintained provision.
"The report is entirely silent about the ongoing demolition of behaviour support teams within local authorities, making totally unrealistic the idea that capacity in schools to manage behaviour will improve."