'Poor safety at nurseries puts toddlers at risk'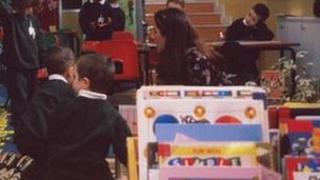 Poor safety at about 1,000 nurseries and childminders in England may put children at risk, figures suggest.
A further 14,600 providers of care to the under-fives were judged only 'satisfactory' for safety at their most recent Ofsted inspection.
Ofsted said safety issues ranged from relatively minor to serious failures to vet staff or keep premises secure.
A government spokeswoman said local authorities had a duty to provide advice and training to poor providers.
"We welcome the fact that nearly three-quarters of early years settings inspected by Ofsted have been judged good or outstanding.
"But over a quarter are not meeting the needs of the children in their care as well as they should be," said the spokeswoman from the Department for Education.
Central question
Ofsted inspections of childminders and of early years providers such as preschools and nurseries take place with little or no notice and last half a day.
They are generally carried out by a single inspector who looks at how well the children are looked after and helped to learn and develop and how well the setting is led and managed.
Ofsted says that the central question inspectors ask is 'What is it like for a child here?'
A key element of each inspection is to look at how well the legal requirements for early years childcare are met - this includes regulations about the vetting of staff and the safety of premises and equipment.
In the case of minor failures to meet welfare requirements, inspectors can make recommendations for improvements.
More serious failures to meet the regulations can result in a notice to improve or enforcement measures.
Where children are at risk of harm Ofsted also has the power to suspend a childcare providers' registration.
The figures also suggest that some childminders and nurseries judged inadequate take a decision to close down.
Almost one in 10 of the registered early years providers who were no longer operating at the end of 2011 had been judged inadequate at their last inspection.