Dutch universities recruit in UK with cheaper fees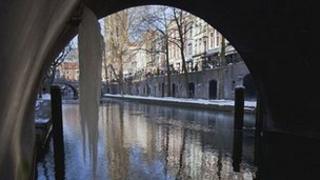 A group of Dutch universities is touring schools in England this week with the aim of recruiting students to study in Holland.
They are inviting students to take degree courses taught in English with tuition fees of £1,500 per year.
A spokeswoman for Utrecht University said there had been a great deal of interest in applying, particularly because of lower fees.
It follows a recent plan to encourage UK pupils to apply to US universities.
Along with Utrecht University on this recruiting trip to England are representatives of Tilburg University, Maastricht University, Leiden University and the Roosevelt Academy.
Taught in English
They are offering degree courses which are entirely conducted in English and which present a relatively easy travelling distance for youngsters in many parts of England.
Although they are emphasising the quality and high standing of Dutch universities, a spokeswoman for Utrecht University said that students in England had been particularly attracted by the lower fees.
These are less than a quarter of the upper limit of £9,000 for tuition fees for universities in England.
On Wednesday, pupils at Whitgift School in Croydon were given information about studying in Holland.
They were told that 95% of locals would be able to speak English and that some of the social activities on campus would also be in English.
A presentation, along with pictures of Vincent van Gogh and Robin van Persie, showed how degree courses in Holland could include a range of subjects, rather than specialising.
The arrival of Dutch universities is part of an emerging pattern in which more young people in the UK are considering studying overseas.
The Sutton Trust education charity recently announced that it would run a summer school to help disadvantaged youngsters from the UK apply to leading universities in the United States.
The Fulbright Commission, which promotes education links between the US and UK, has reported a sharp increase this year in interest in studying in the US.
This seems to be particularly fashionable in independent schools, with Anthony Seldon, head of Wellington College, predicting that within a few years a quarter of pupils from his school would be applying to US universities.
There has also been a sharp increase - 27% - in applications to universities in the Irish Republic from students living in the UK.
Opportunities for studying overseas in Europe have been widened by the growth of courses taught in English. There are German universities offering courses in English without any tuition fees for overseas students.
In London this weekend a Student World Fair is being held at which overseas universities will invite applications from UK students, with representatives from universities in 19 countries.
Along with universities from places such as the US, Canada, Japan and countries in western Europe, for the first time there will be representatives from Vietnam, Lithuania, Sweden and Hungary.