Oxford launches free interactive course book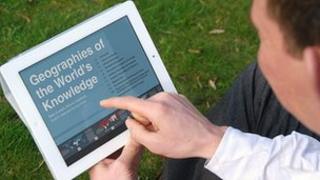 Oxford University's Internet Institute has published its first digital, interactive textbook for students - which will also be free to the public.
This is the latest step in the emergence of digital textbooks, driven by the growth in tablet computers.
It is also an example of how institutions are able to publish their own specialist materials.
Prof Viktor Mayer-Schonberger said this prototype book "will help to revolutionise learning tools".
Oxford Internet Institute, part of Oxford University, has produced Geographies of the World's Knowledge, which uses text and graphics to map the spread of information in the digital era.
It compares geographical concentrations of information - such as internet use, Wikipedia references, research activity and user content on Google.
It shows the disproportionate domination of places such as the United States, western Europe and Japan.
Global classroom
But the innovation for the institute is that the research has been produced in an interactive form, using Apple's iBook format.
As well as being a customised resource for students at Oxford it is also available for a download for anyone else.
"This is a format that makes research more accessible and easy to understand without the risk of 'dumbing down'.
"Indeed, it encourages readers to interact, by making decisions about what they want to know and in how much depth and detail," said Prof Mayer-Schonberger.
He argues that digital publishing should not try to replicate the book - but should try to develop its own grammar and structures.
"We still need to find a language to use the new interactive medium," he said.
"We must break out of the old way of communicating knowledge."
As an example, he says that it means that academics might want to use less text and instead develop other graphical and interactive ways of representing information.
He says that its capacity to reach a global audience also challenges how academic knowledge should be shared.
When the "physical constraints" of a book or a building are taken away, he says it creates many different opportunities for a university.
In the knowledge map published by the institute, geographically small countries such as Switzerland are "bigger" in terms of digital information than the entire continent of Africa.
And Prof Mayer-Schönberger says such interactive technologies might mean that universities have a bigger reach with learners outside of the university than within it.
There has been a growing interest in the use of such digital technology in higher education.
Tablet devices such as the iPad have become more widely used by students - and authoring tools allow universities to create their own digital materials for their courses.
Apple has been promoting the potential of the iPad for education, with a major launch in New York earlier this year which highlighted a new generation of digital touchscreen textbooks.
There has also been an increasing global use of the iTunes U service, which provides free online downloads of lectures and course materials from top universities.
And this month, in the United States, the Massachusetts Institute of Technology, launched its first course in a free online service - MITx - which will run in parallel to its campus-based courses.
This inaugural course, which will run until June, is being studied by more than 90,000 students around the world.
Such developments have raised questions about how the accessibility and affordability of such materials will change higher education.