Adoption: Ofsted report says courts are biggest cause of delay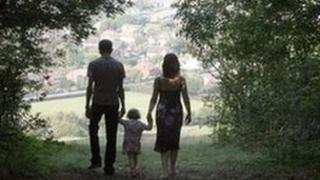 The most significant cause of delay for children needing adoption in England is the length of time taken by court proceedings, a report by Ofsted says.
The government wants to speed up adoptions, get more children adopted and cut the bureaucracy involved.
Ofsted is now giving "outstanding" ratings to councils for adoption only where children are placed within 12 months.
Inspectors say in cases covered by this report, proceedings took 14 months.
Their study was based on nine local authorities, where they tracked 53 adoption cases in detail and randomly sampled 36 more.
Prime Minister David Cameron and Education Secretary Michael Gove have led a drive to cut the time children wait to be adopted and how long it takes to approve people who want to adopt.
In the autumn, they published a list of how long children were waiting to be adopted in different local authorities.
On average, children wait one year and nine months.
Ethnic match delays
The latest government figures suggest there are 6,770 children in England who have been identified for adoption but have not been adopted.
Adoptions which take place when children are at a young age are the least likely to break down and ministers say the sooner children find a loving stable home the better.
The report from Ofsted said inspectors had found processes for matching children with adoptive parents were "generally robust".
It also said there was little evidence of delay caused by "an unrealistic search for a 'perfect' ethnic match" among the authorities checked.
Ministers have urged local authorities not to make ethnic matching an overriding priority.
Ofsted's deputy chief inspector John Goldup said: "For children who need the love and stability that an adoptive family can offer, what matters most is that they get that chance, in the right family, with the minimum of delay.
"Local authorities have a huge responsibility to play in achieving that. But this report highlights that one of the most important things we need to do if more children are to have the chance that they need, when they need it, is to get the court process right."
Cases were being delayed, the report said, by repeat or late assessments of parents or other family members.
"It added months, or in some cases years, to the time it took to secure the new family that the child needed," said inspectors.
Ofsted also said adoptions were being hindered by social workers not intervening early enough and "cases being allowed to drift" before care proceedings.
But it praised good practice where local authorities were working to minimise delays and said in most cases, social workers were planning for adoption at the same time as trying to help parents change for the better.