Teachers fear they may be paid by pupil age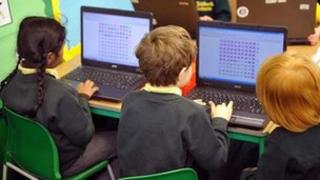 Teachers fear the age of pupils could dictate how much they are paid under plans to scrap national pay rates.
Members of the Association of Teachers and Lecturers (ATL) also say planned reforms could lead to a shortage of good teachers in disadvantaged areas.
The Education Secretary, Michael Gove, has asked the body which helps set teachers' pay to look at how to introduce regional pay.
Its conference heard how the plans could end in an industrial dispute.
Ralph Suman, ATL executive committee member, said: "This issue around local pay, we have already heard, is going to be the real next big challenge to all of us.
"It could end up in a dispute - that's the reality."
He warned that introducing such differential rates would create a "premiership football league" between schools competing for teachers.
And he highlighted how a survey of ATL members suggested pay rates could be set according to the age of the pupils or subjects taught.
More than half (53%) of the 791 teachers surveyed by the union thought the reforms would lead to pay discrimination based on the age of pupils. This rose to almost two-thirds when school leaders alone were asked.
Kim Knappett, executive committee member and teacher at a school in London, asked: "Is my 10-year-old worth less than my teenager? I think not. We must make our voices heard loud and clear."
The survey also raised concerns that schools in deprived areas would find it hard to attract and retain teachers, lecturers, heads and principals,
A head of a department in a sixth form college in North East Lincolnshire said: "Deprived areas have a lower cost of living. They also need the best teachers to raise standards, increase motivation and 'break the cycle'.
"Paying teachers in these areas less will not encourage the best teachers to work in challenging environments."
Pandora's box
ATL general secretary Dr Mary Bousted said: "Regional pay would open a pandora's box of issues.
"The range of factors influencing how well children do at school and college is too complex to be reduced to a neat formula on which to vary pay."
She added: "All children deserve to have the best quality teachers, lecturers and heads, which regional pay could make it harder to achieve."
ATL members resolved to "robustly defend existing national pay structures for teachers and lecturers".
The Schools Minister, Nick Gibb, told the conference he wanted teachers to be well-rewarded for their efforts and added that the government was not dismantling the statutory process for setting teachers' pay.
He said the School Teachers Review Body had been asked to look at local pay rates around the country and pointed out that there already were four different pay bands around the country.
Shadow Education Secretary Stephen Twigg told delegates: "If regional pay means pay cuts for the poorest parts of England, how does that help to tackle disadvantgage?"