Ofqual report backs final exam A-levels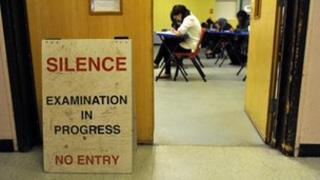 Academics and teachers back a return to more traditional A-levels, with pupils sitting fewer "module" papers throughout their course, a study finds.
A report by England's qualifications watchdog, Ofqual, says academics are losing faith in first-year students.
Ofqual finds a culture of resits is damaging students' learning.
The report comes after Education Secretary Michael Gove said he wanted universities to have "a far greater role" in designing A-levels in future.
In a letter sent to Ofqual, and obtained by BBC Newsnight, Mr Gove raised concerns that A-levels were failing to stretch pupils.
His proposals, which could be implemented from September 2014 for students sitting exams in 2016, would apply to the English exam system - but exam boards also set A-levels for pupils in Wales and Northern Ireland.
Degree skills
Ofqual's report is based on interviews with 71 university academics, as well as discussion groups with employers and A-level teachers.
It found many academics did not think that new students had the skills needed for degree study.
These skills included researching, essay writing and referencing, with some lacking the standard of English and maths required.
Academics at selective universities told researchers they had "less faith in the abilities of first-year undergraduates than they used to".
Despite an increase in A-level grade, and higher numbers gaining first-class degrees, universities were not reporting "a comparative increase in the abilities of first-year undergraduates", the report says.
"If anything, students' theoretical subject knowledge was said to have grown broader but shallower."
The academics interviewed also raised concerns about pupils "learning to the test" - being drilled to pass exams.
This culture meant new undergraduates failed to take control of their own degree studies.
'Resit culture'
Teachers told researchers that a "resit culture" had been damaging because students approached exams knowing they will always get a second chance at it.
Consequently, many academics said first-year university students struggled because they were not able to retake an exam to boost their grade.
The report says its research suggests teachers would welcome a return to more "linear" A-levels, where pupils sit their exams at the end of their two-year course, rather than modular courses in which pupils sit exams in "bite-size" chunks or units throughout.
The Ofqual report concludes: "A move away from modular assessment - although not necessarily to a full two-year linear model - would foster an environment where students are more able to develop synoptic learning and allow more space for teachers to focus on skills and subject narrative."
The Ofqual report backs up a study by Cambridge Assessment - which runs the OCR exam board - which suggested universities wanted A-levels to be more intellectually stretching and with less spoon-feeding from teachers.
Cambridge Assessment found many lecturers believed students arrived unprepared for degree-level work, with three-in-five lecturers saying that their institutions had to run catch-up classes.