Spoilt 'little Buddhas misbehaving in class'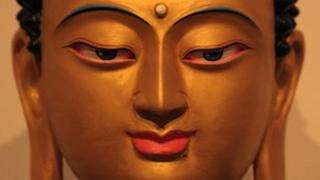 Some middle class parents are turning their children into "little Buddhas" by "waiting on them hand and foot" at home, a teachers' leader has said.
Association of Teachers and Lecturers general secretary Dr Mary Bousted warned spoilt children had "disproportionate" consequences for behaviour in schools.
Parents needed to be confident in saying no to their children, she said.
It come as the union debated calls for tough behaviour sanctions in school.
The ATL conference in Manchester earlier heard that measures such as detention, suspension and exclusion, were failing to deal with behavioural issues.
But Dr Bousted laid the blame firmly with poor parenting in both poor and middle class homes.
While acknowledging most parents did a good job, she told reporters: "Children without boundaries at home resent boundaries imposed at school.
"We need to be confident in saying we can go so far but no further we need to be more confident in what we think is reasonable.
"How many parents ask their children regularly to contribute to the running of the house?
"Far too many children are waited on at home hand and foot. They don't do the washing up and they don't do the hoovering and the don't have to make their own beds.
"We are not doing them any favours if we make them into little Buddhas at home," she said.
"And it certainly doesn't do them any favours in school".
Tough discipline
Dr Bousted was speaking after the conference heard a resolution warning that successive governments had failed to introduce effective ways of dealing with naughty pupils since corporal punishment was abolished in 1986.
It said the forms of discipline currently available to teachers remain "totally inadequate".
In his speech to the conference, delegate Julian Perfect said he was not advocating a return to corporal punishment.
"Effective teaching and learning cannot take place against a constant background of disruptive behaviour by pupils," said Mr Perfect.
"Moreover, where such behaviour is a regular occurrence it should not be attributed to a teacher's inability to plan and take lessons.
He added: "This motion does not seek the reinstatement of corporal punishment, but rather the identification of additional forms of sanction for use by teachers to deal with inappropriate behaviour, the implementation of which will not be constrained by financial considerations or retention targets and which receive the full backing of school and college managements."