Segregated UK schools 'toxic for poor'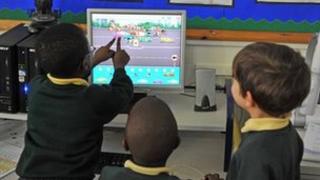 Schools in the UK are segregated along class lines, creating a "toxic" effect for the poor, a teachers' leader says.
This was set to worsen as government "austerity policies" pushed more children into poverty, Association of Teachers and Lecturers head Dr Mary Bousted warned.
Teachers alone were not responsible for poor pupils' under achievement.
The government said many schools had failed to address poor performance.
Dr Bousted said class remained a key determining factor in educational attainment.
In her closing speech to her association's conference in Manchester, the ATL general secretary described an education system "stratified on class lines".
"We have schools for the elite, schools for the middle class and schools for the working class.
"Too few schools have mixed intakes where children can learn those intangible life skills of aspiration, effort and persistence from one another."
She added: "The effect of unbalanced school intake is toxic for the poorest and most dispossessed."
Dr Bousted hit out at ministers for holding teachers solely responsible for the educational outcomes of the poor.
"If the poor don't make as much progress as the rich, it is the school and the teachers within it who are to blame.
"This, you and I know, is a nonsense. It is a lie which conveniently enables ministers to evade responsibility for the effects of their policies."
'Washing their hands'
And she accused Education Secretary Michael Gove and the head of the school watchdog Ofsted, Sir Michael Wilshaw, of washing their hands of the causes of educational failure.
Teachers were straining "every sinew", she said, to raise aspiration and achievement, but struggled against the effects of poverty, ill health and deprivation.
She called on society to look at the effects of poverty on educational performance, saying: "These effects are real, they are present and they are dangerous."
Instead the coalition government was neglecting young people, with an increase of 110,000 pupils claiming free school meals and predictions of 200,000 more children set to fall below the poverty line, she said.
A Department for Education spokesperson said schools could not solve all problems but many had not "properly addressed poor performance".
"Union leaders should be challenging underperformance in our schools on behalf of their members, rather than defending a culture of underachievement.
"The public and many teachers in the country will be confused that union leaders dislike the idea of schools being given the freedom to pay good teachers more.
"We are making more money available for schools to support disadvantaged children with the pupil premium. The previous funding system simply didn't work. We have reformed it so that thousands of children will finally be getting the extra support they need to succeed."