Phonics test: NUT says it will make failures of five-year-olds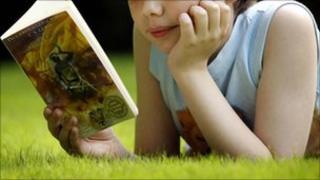 A teachers' union is calling for a boycott of a new phonics reading test, saying it risks making failures of five-year-olds.
The government in England wants all children to be taught to read using phonics, where they learn the sounds of letters and groups of letters.
And it says the new "phonics check" for five and six-year-olds will help identify children who need extra help.
But the National Union of Teachers says it will not tell teachers anything new.
And the union fears the results could be used in league tables.
At their annual conference in Torquay, NUT members will vote later on Sunday on calls for them to refuse to stage the tests when they are introduced in June this year.
The union says nine out of 10 of its members who took part in an online survey said the check would give teachers no extra information on their pupils.
Eight out of 10 of the 1,300 people who opted to take part in the survey did not agree with the test, it says.
The reading checks will be run in England's schools in June and are expected to take five to 10 minutes.
Children at the end of Year 1 will be asked to read 20 words and 20 "made-up words" such as "zog" or "vot" to their teachers.
The check is aimed at measuring whether pupils have a good understanding of phonics - the sounds of letters and groups of letters - which the government says is the key to helping children to read.
In reality, all schools use phonics to teach children to read, but the government says this should be done more systematically.
Teachers say they should be trusted to use their judgement to use a range of techniques suited to their pupils.
NUT general secretary Christine Blower said: "Five years old is too young to fail. They will know that they have not got it right and we think that will be demoralising".
Hazel Danson from the NUT, who teaches five and six-year-olds, says those who are reading quite well at this age might misread the made-up words, for example by mistaking "osk" for "ask".
Parents
The government insists the results of the reading check will not be published in league tables and says schools will tell parents their child's results.
A spokeswoman for the Department for Education said: "Standards of reading need to rise. At the moment around one in six children leaves primary school unable to read to the level we expect.
"The new check is based on synthetic phonics, a method internationally proven to get results."
She added that the check would stop thousands of six-year-olds "slipping through the net" and lead to their getting the help they needed.
The government said the reading check had been supported by three-quarters of parents questioned in a survey by the National Confederation of Parent Teacher Associations.