Teachers warn on rise of academies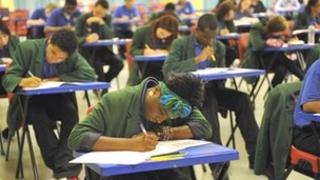 Teachers' unions are to warn that the rapid expansion of academies in England is threatening to undermine the state school system.
The NASUWT teachers' union, meeting for its annual conference, will also hear claims that academies will be used to dismantle national pay agreements.
There are also criticisms of schools being forced to become academies.
A Department for Education spokesman said academies gained from freedoms to "innovate and raise standards".
This week the Department for Education announced that a majority of secondary schools in England are now academies or are in the process of becoming academies.
It means that this more independent type of state school, without formal links to local authorities, has become the standard model in the secondary system.
Privatisation
But teachers' unions have warned that the shift towards academy status will break up the traditional state school system, with claims that it could become a form of back-door privatisation.
The NASUWT and the National Union of Teachers conferences will hear calls to reaffirm their opposition to the academies and free schools programme.
"The academisation project is a key part of the coalition government's plan to undermine workers' rights and trade union organisation," says a motion to be debated by teachers at the NASUWT meeting in Birmingham.
The union's general secretary Chris Keates has claimed the academies policy is being driven by "arrogance and ignorance".
The National Union of Teachers, meeting for its conference in Torquay, is also set to hear condemnations of the academy programme this weekend.
Teachers will debate the proposal that the expansion of academies represents "the biggest attack yet launched on comprehensive education by any national government".
On Friday, the general secretary of the NUT Christine Blower told reporters the creation of academies and free schools was "monstrously ideological".
"We know Michael Gove has said he is relaxed about schools making profits," she added.
Academies have local flexibility over staff pay and conditions - and unions have warned that this could be used to erode deals struck at a national level.
There have also been warnings over the transfer of responsibility to chains of providers - which have replaced the co-ordinating role of local authorities.
Opponents
Academy opponents have claimed that these chains of providers are not democratically accountable - and that they could be used for a piece-meal privatisation of education services.
There have also been disputes over "forced academisation" - where the government has pushed primary schools into academy status, even when it has been rejected by the school's governing body.
Parents and governors protested against Downhills primary school in Haringey, north London, being forced to become an academy.
The government argued that the intervention was necessary to raise standards.
"It is only when schools have been under-performing for a number of years that the government steps in to ensure improvement,"‬‬ said a Department for Education spokesman.
The Nasuwt has also been involved in local disputes over academies in Birmingham and Salford.
A recent survey of academies carried out by the Reform think tank found that relatively few academies were using the greater flexibility they were allowed.
It found that extra funding was the primary motivation for schools to change status - and that many had continued as they had before.
There are now 1,641 secondary schools out of 3,261 which are either open as academies or about to become academies.
This rapid expansion means that in six authorities all secondary schools are academies or in the process or becoming an academy.
A Department for Education spokesman said: "The academy programme is clearly not privatisation. No academy can be run for profit, all are directly state-funded for local children and all are accountable directly to the secretary of state through the formal funding agreement.‬‪ ‬
"Academies are improving faster than other state-funded schools and enjoy freedoms that enable them to innovate and raise standards."‬