Twigg pledges no private profit running state schools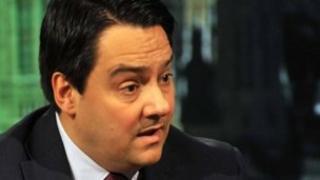 Labour's education spokesman Stephen Twigg has given a "cast-iron guarantee" that he would not allow private companies to run schools for profit.
But speaking to the NASUWT teachers' union conference he refused to support plans for industrial action, including strikes, in the autumn.
Mr Twigg told delegates that raising the status and quality of teaching was the way to improve school standards.
The Department for Education said academies cannot be run for profit.
Mr Twigg, speaking to the teachers' union's annual conference in Birmingham, came with the message that Labour's priority would be to improve teaching by investing in the recruitment and training of staff.
He accused the government of "talking down" the teaching profession.
International evidence
He told delegates that the international evidence - such as from the PISA rankings of education systems - showed that high performance depended on having the best teachers.
In Finland only one in 10 applicants was accepted for teaching, he told the conference, and it was this high quality that helped to raise standards, and not the "marketisation" of schools.
Mr Twigg called for an evidence-based approach to education policy, which would draw upon the best examples of what worked in other countries.
But he also responded to the warnings of teachers at the conference about what they claimed was "creeping privatisation" in the state school system, through the chains of providers that run academies.
Mr Twigg told them that if in office he would not allow state schools to be run for profit for a private provider.
He claimed that the next stage of the government's education policy would be to make it possible for state-funded schools to be run as a commercial service.
Many changes are already taking place in the school system - and his comments suggested that if returned to office he would not be turning back the clock.
On free schools, he said that he opposed such "massive centralisation", but suggested that he would support individual, successful, free schools.
"Parents are not that bothered what schools are called," he said.
Teachers at the NASUWT conference have criticised the expansion in academy schools - now representing more than half of secondary schools in England.
These operate outside of local authority control - and teachers' union leaders have argued that this is a step towards dismantling the state school system.
Mr Twigg suggested the creation of a new layer of local accountability which would co-ordinate all state-funded schools in an area, including academies which would remain outside the local authority.
Academies have local flexibility over teachers' pay and conditions - and Mr Twigg said that he backed this independence, but he would also support the protection of national pay deals.
Responding to his speech, NASUWT general secretary Chris Keates called on Labour to form an alliance with teachers' unions to protect public services.
The Department for Education rejected suggestions that academies were a form of privatisation.
"The academy programme is not privatisation. No academy can be run for profit, all are directly state-funded for local children and all are accountable directly to the secretary of state through a formal funding agreement," said an education department spokeswoman.
"Academies are improving faster than other state-funded schools and enjoy freedoms that enable them to innovate and raise standards."