Overheated schools stop pupils learning, say teachers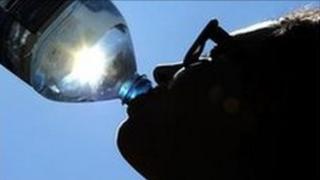 Many classrooms are so overheated that sweltering pupils are finding it impossible to study, a survey suggests.
The NASUWT teachers' union said a survey shows that one in three teachers have had to give lessons in temperatures that are over 30 degrees.
It was suggested that modern building design, with much more use of glass, was making the problem worse.
The union's general secretary, Chris Keates, said stifling conditions made pupils' behaviour more difficult.
The survey from the NASUWT teachers' union, published at the annual conference in Birmingham, shows that one in three teachers had to give lessons in temperatures of more than 30 degrees Celsius.
More than three-quarters had faced classroom conditions above 24 degrees Celsius, said the survey.
A large majority of teachers said that such temperatures had an adverse impact on pupils' ability to learn.
Glass walls
The reason that this was becoming a more urgent problem, said Ms Keates, was a combination of new school design and old buildings.
There were new buildings where much glass was used in the design - but she said these did not always have sufficient ways to reduce the heat, such as blinds that could be pulled down by teachers.
There were also problems with older buildings, said Ms Keates, including windows that could not be opened because of worries about security.
These classrooms faced a build up of heat that made it impossible to study.
Teachers in the survey talked about both staff and pupils becoming lethargic and light-headed because of the temperatures.
There were accounts of pupils needing to be let outside to get water and problems with pupils becoming restless or more irritable.
A teacher described working in an "unbearable" classroom filled with pupils and computers which had no means of opening any windows or ventilation.
Another complained of a classroom that "acts like a greenhouse".
The teachers' union says there should be a legal maximum temperature for the workplace.
It also claims that there are serious risks from reducing detailed advice on health and safety.
"NASUWT research has shown time and time again that teachers are facing serious health and safety risks in schools as a result of high levels of stress, school buildings which are outdated and not fit for purpose, the presence of asbestos and excessive classroom temperatures," said Ms Keates.