London gets largest slice of primary school place cash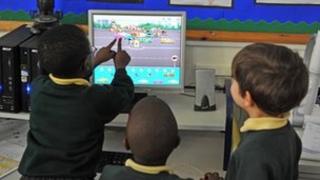 The London boroughs are the main beneficiaries of £600m additional funding for primary school places.
In November 2011, Chancellor George Osborne announced the extra funds for primary places in 2012/13.
Details of which local authorities in England will get a share - and how much - have been published by the Department for Education (DfE).
Brent tops the list with over £30m. Waltham Forest and Barking and Dagenham get nearly £30m each.
Government figures show more than 450,000 extra primary pupils will need places in England by 2015, as schools face a surging birth rate.
It is thought that number will rise to around 800,000 by 2020.
Capital demand
The allocation list, published by the DfE on Wednesday, sees four London borough at the top - Brent (£30.9m), Waltham Forest (£29.9m), Barking and Dagenham (£29.88m) and Redbridge (£23.4m).
The City of Bristol is next with an allocation of £22.8m, followed by Newham (£22.4m), Hammersmith and Fulham (£18.75m), Hounslow (£16.7m) and Lewisham (£16m).
A DfE spokeswoman said: "In spite of the challenging economic climate, we have doubled the annual funding previously available to help create new school places.
"Funding is targeted at areas where the pressures of soaring birth rates are being felt the most and allocations are based on information that local authorities provide.
"We plan to announce future funding allocations for school places at the end of this year."
'Nothing new'
But Shadow Education Secretary Stephen Twigg said the announcement revealed nothing new.
"Any funding to address the shortage in primary places is welcome but this is money that was announced by the Chancellor in the Autumn Statement in November.
"Michael Gove is fooling nobody into thinking that he is taking the shortage in primary school places seriously.
"The education secretary failed to get a fair capital spending allocation for the Department for Education at the Comprehensive Spending Review, receiving one of the biggest capital spending reductions, at twice the average of all other government departments, ending the primary building programme."