Child's play not easy for modern parents, say experts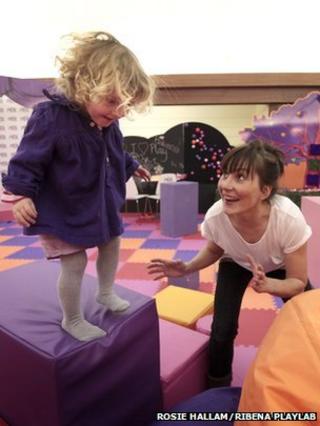 UK parents are suffering a crisis of confidence when it comes to playing with their children, suggests a survey.
Almost half of 2,000 parents questioned said they would welcome expert help on how to play.
Some 13% felt anxious about play, while 17% admitted buying toys and video games for their children to take the pressure off themselves, it revealed.
Play campaigner Adrian Voce called on the government to develop a national play strategy.
Researchers for the drinks brand Ribena questioned 2,000 parents of children aged from three to 15 across the UK for its Ribena Plus Play Report.
The figures showed that 59% of fathers and 42% of mothers were so busy that they had fewer than five hours a week to play with their children.
'Lose the ironing'
Just under a third of parents said they felt guilty for playing with their children instead of doing housework.
Mr Voce told BBC News: "Society has got its values back to front if parents feel guilty for playing with their children instead of doing chores.
"Playing with your kids is just as important as any aspect of looking after the home."
His advice to parents was is: "Don't be so anxious. Lose the ironing for half a day.
"Play is one of the most simple and basic activities. If it feels good and the child enjoys it, then that's the way to do it."
Ribena's play tips include making musical instruments from tin cans, going on a nature trail in the local park and building a dressing-up wardrobe from old boxes and pillow cases.
Daisy Mulligan, mother of two daughters aged three years and six months, said: "The tips show how to use things that are all around you that are not specified as toys.
"At Christmas Molly played with the boxes the gifts came in. It really set her imagination on fire and we just lived with the mess."
The survey also suggests computers and video games have taken over from more traditional forms of play.
Outdoor play
Only around a third of children played with household objects, like pots and pans, and a similar number regularly climbed trees.
By contrast 90% of children watched DVDs and 70% played video games.
The survey coincides with a campaign by the National Trust to encourage more outdoor play.
The charity's "50 things to do before you're 11¾" campaign includes climbing a tree and building a den.
The trust has recruited experts in these skills from among its staff to encourage families to have a try while visiting National Trust properties.
Mr Voce agreed that more children should play outside, but he said traffic and crime had effectively excluded children from many public spaces.
He called on national and local government to develop safe outdoor spaces where children could play and explore near their own homes.