More teenagers opt to be scout leaders, census shows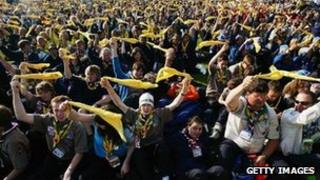 The number of teenagers signing up to become scout leaders has exceeded 10,000 for the first time, a census from the Scout Association shows.
Young leaders, aged 14 to 18, now total 10,394, up from 9,030 in 2011.
The association says youngsters may see scout leadership as a way of boosting their skills in tough economic times.
The annual census also shows that total UK membership now stands at 525,327, up more than 80,000 from the lowest recorded membership of 444,936 in 2005.
Young leaders are Explorer Scouts who commit to help with younger members in beavers (aged six to eight), cubs (aged eight to 10) and scouts (aged 10-14).
The Scout Association's Young Leaders' scheme was launched in 2002.
Numbers of volunteers have risen steadily from 1,254 in 2003, to 6,127 in 2007, to today's 10,394.
The association says the transferable skills that leadership in scouting offers can help young people to develop their CVs.
It says young leaders develop better communication and organisational skills, as well as leadership qualities.
It plans more work in this area later in the year, aimed at helping its young leaders boost their employability, in recognition of the difficulties facing young people looking for employment.
Explorer and young scout leader Emily, 17, has been a young leader for the past three years, working with beavers, cubs and scouts.
She told the BBC working with adult leaders to plan and deliver activities had helped her develop her skills.
"I really notice the impact outside of scouts - I'm a lot more organised and more confident in speaking with other people.
"It's definitely something to get involved with. It gives you so many skills that you can use elsewhere in life."
Rewards and benefits
Chief Scout Bear Grylls said scouting brought people together and empowered them through adventure.
"I am so excited to see so many young people committing their time as young leaders," he said.
"Leadership in scouting offers so many personal rewards and practical benefits that it can empower so many areas of a person's life.
"More and more young people are realising that scouting can give them so much - whether it's the opportunity to be involved with some incredible adventures, learn practical life, outdoor and teamwork skills, or just how to help and change their local communities."