Three-quarters of London pupils get first primary place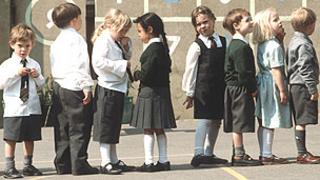 More than three-quarters of families in London have a place at their first choice of primary school for the autumn, despite a rise in applications.
Figures from the Pan London Admissions Board (PLAB) show 78% got their preferred school, while 90% got a place at one of their top three choices.
But a total of 1,500 children in the capital currently have no place.
Families in other parts of England are finding out about their child's primary place at various times.
The PLAB says 100,000 children applied for a primary place in London for September - an increase of 6,000 on 2011.
Last year 79% got their first choice primary school.
Of the 100,000 applicants for this September, 6,220 were not allocated any of the schools on their form.
But the admissions board, which represents the capital's 33 local authorities, says this could be "for a number of reasons", including parents only listing one school and a huge demand for some popular schools.
Of the 6,200 pupils, 4,700 have been offered a place at an alternative school within a reasonable distance of their home.
Rising birth rate
Government figures show more than 450,000 extra primary places will be needed in England by 2015.
It is thought that number will rise to around 800,000 by 2020, as schools face a surging birth rate.
But with an increase of 6,000 applicants on last year, the London boroughs - and politicians - have reported that 78% of families were allocated their first choice school.
This is likely to be a result of schools expanding or adding booster classes to cope with demand - or it could be down to parents being more realistic about which schools they can hope to access.
London variations
Tower Hamlets had the highest proportion of familes getting their top preference - 86%, closely followed by Barking and Dagenham (85%) and Newham (85%).
In Kensington and Chelsea, just under 65% got their first preference, in Wandsworth 69% did so.
The PLAB says more than 200 new classrooms are being built at primary schools across London this year to deal with the rising demand.
Chair of the PLAB Helen Jenner said: "Co-ordinating school admissions in London has meant a fairer distribution of available offers and has resulted in more parents getting an offer from one of their preferred schools earlier.
"It is important to emphasise that although the system is very efficient, it cannot create places at schools which are already full and not all parents can be offered their first preference.
"London local authorities are working hard to try to ensure that they can offer every child a school place but with this surge in demand it is becoming increasingly difficult."
Last week, the Department for Education published details of which local authorities in England will get a share of £600m extra cash for primary places in 2012-13.
London authorities were the main beneficiaries - Brent topped the list with an allocation of £30.9m, Waltham Forest got £29.9m, as did Barking and Dagenham, and Redbridge received £23.4m.
London's primary school application process is coordinated and parents in the capital find out which school they have been allocated on the same day, but elsewhere in England, parents find out on various days.
In some areas outside London, parents were told earlier this week. Parents in Birmingham and Manchester will hear next week. In Bristol, letters and emails are being sent out tomorrow and families in Cambridgeshire will find out on 1 May.
Families in Hertfordshire found out about their children's primary places yesterday. There, 81% were given their first choice, while 93% got one of their top three choices.
There, applications for reception class places were up 6% (835 pupils) this year. The council says 17 extra classes have been added this year but more are needed. Hertfordshire is one of the areas receiving extra funds from the government to deal with rising demand for primary places.
From 2014, families across England will find out which primary school their children have been allocated on the same day.