Fifth of students at new £18,000 London college from state schools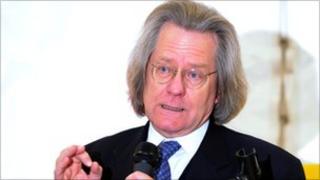 State school pupils make up one fifth of those accepted by a new private college opening in London which will charge £18,000 a year.
The New College of the Humanities says it had 350 applications and has offered places to 91 people.
Seven people have been given full scholarships and will pay no fees while 37 were given partial scholarships.
The college will prepare students for external degrees from the University of London.
The degrees are in economics, English, history, law and philosophy and students will also cover a range of modules to get a broad education, including some which prepare them for work.
'Elite not exclusive'
Students will not be eligible for state support in terms of student loans, but the organisers say they hope that some day they will be.
The college's master, the philosopher Professor AC Grayling, said the college would be "elite but not exclusive".
He received a hostile reaction from some academics and others when he announced that the college was being set up last year.
Critics said the college would be elite and encourage the privatisation of higher education.
At a media conference, Professor Grayling criticised what he said was the under-funding of universities in England - and said setting up the college was a way of dealing with the situation.
"The option is to knock off a few policemen's helmets and break a few windows or try something fresh and different and approach the problem," he said.
He said the college would promote "serious study" through top-quality teaching based on weekly tutorials and lectures.
And he said there was something to be said for elitism.
"I would like any airline pilot or surgeon to have had an elite education," he said.
Damage
Academics represented by the University and College Union said the college seemed to have taken the "lowest proportion of state school pupils of any university".
Sally Hunt, general secretary of the UCU said: "Today's figures do give the impression that only those prepared or able to pay top whack will be afforded the opportunity to study at NCH.
"This should give us food for thought about the damage higher fees will do to students, universities and the country. Surely we need the brightest brains studying the courses best suited to their talents, not simply one within budget?
"Much needs to be done to help arts and humanities following the government's punitive slashing of teaching budgets. However, few people are convinced that charging the highest fees in the land is the way to ensure courses are available to all."
The college said 22% of the offers had been made to state school pupils and 66% to those from independent schools.
The remaining 12% was made up of either mature students or those not coming directly from school, it said.
Fees are £18,000 a year at the college - twice the maximum universities in England will be able to charge from this autumn.
So far seven students have been given full scholarships - and one has been given maintenance funds also, the college said.
The 37 given partial scholarships will pay annual fees of £7,200 a year - meaning that so far there are 47 people paying full fees.
Typically, the students chosen have - or are predicted to have - at least two As and B at A level.
The college aims to have about 1,000 students in total in a few years' time and expects to recruit more students for September in the coming months.
Professor Grayling said in the future he hoped there would be a big endowment fund so that anyone could attend, regardless of their financial situation.
"It is our long-term ambition for the college to become needs-blind and to have as many of its student body as possible on financially assisted places," he said.
"This is how the leading American universities do it, by building up a major endowment, and this is the model we are seeking to create here over time."