Child X-rays cause for concern, says Michael Gove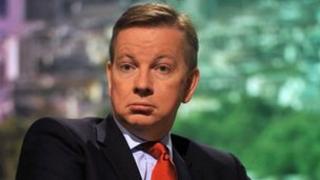 Education Secretary Michael Gove says there are "causes for concern" about children being X-rayed by the UK Border Agency to establish their age.
The practice of X-raying young asylum seekers was reintroduced in March 2012 by the UKBA, and is controversial as it exposes young people to radiation.
It has been condemned by the former Children's Commissioner for England, Sir Al Aynsley-Green, as "scandalous".
Addressing a committee of MPs, Mr Gove said he understood the concerns.
The issue was raised by Labour MP and education select committee member Lisa Nandy, who said the X-rays were carried out on individuals entering the UK who claimed to be children, but whose age was disputed.
Ms Nandy said medical evidence suggested the practice of X-raying young people under these circumstances was unethical and potentially exposed children to harmful doses of radiation.
She asked Mr Gove what questions the Department for Education, which has responsibilities for safeguarding children, had asked of the UKBA.
'Vigour'
Mr Gove said: "We need to be clear that this is a proportionate, wise intervention in order to ensure that we can keep our borders safe.
"I am concerned obviously to ensure that we do not have people exploiting the generosity of this country, but I'm also clear that we should ensure that the dignity of individuals and in particular the rights of children are respected too."
Mr Gove said he had raised some concerns with the Home Office and the UKBA, but had not yet had a response.
He said there had been "no lack of urgency" on the part of his department in trying to get to the bottom of the matter.
He would not be drawn on whether he, personally, thought the practice was unethical.
School meals
Mr Gove also faced questions from MPs over the standards of food in academy schools in England.
The matter was raised at the weekend by celebrity chef Jamie Oliver, who accused Mr Gove of endangering pupils' nutrition by not controlling what food academy schools provided.
Jamie Oliver said he was "totally mystified" that academies were allowed to determine what food should be on offer while state schools followed strict rules.
When MPs picked up on the comments, Mr Gove said he loved the chef, whose campaigns had addressed a "bad" situation.
But on academies, he said: "I haven't seen, but I'd be interested in, any evidence that any academy has introduced, as a result of their freedoms, lower-quality foods.
"All the evidence seems to me to point in the other direction - schools that have academy status have improved the quality of food that they offer children."
Academy complaints
Mr Gove also revealed that eight "severely underperforming" academy schools had been put on notice to boost their standards or face action.
The revelation came as the select committee raised concerns that a government quango responsible for investigating complaints against academies was failing to do so.
Chairman Graham Stuart said there was confusion over whether it was in the remit of the Young People's Learning Agency (YPLA), which had had its responsibilities transferred to the Education Funding Agency (EFA) this month, to investigate such complaints.
Mr Stuart said ministers had previously said that parents or local authorities who had a complaint about an academy could take it to the YPLA.
"And yet, we are told by the Special Education Consortium (SEC), among others, that their members frequently reported that when parents called the YPLA, they were advised that handling complaints against academies was not within their remit."
Mr Gove said he thought that the YPLA, now the EFA, had been "effective" in dealing with problems with academies, and he knew of cases where action had been taken.
He added: "There are eight academies where the level of underperformance has been such that my department has issued pre-warning letters.
"Warning notices may follow as a result of that and action will be taken.
"I can only apologise to any individual who feels that the recourse to making complaints has been inadequate so far, and I'll look into the specific concerns that have been raised."