US-style summer school comes to the UK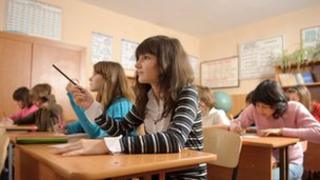 US-style summer schools are being introduced to the UK to help tackle the achievement gap between rich and poor students.
The first part of a £200,000 project opens its doors to older primary pupils in Edmonton, north London, in July.
It aims to improve the literacy, numeracy and life skills of the area's disadvantaged pupils.
Funded by the Education Endowment Foundation, it is modelled on American summer schools.
These involve pupils being taught literacy and numeracy in small groups during the morning.
'Progress'
In the afternoon there will be a mix of educational, recreational and community activities to which these pupils would not normally have access.
It will be open to pupils, mainly on free school meals, from the top two years of primary school.
Previous research suggests four out of 10 pupils on free school meals reach the required standards in primary school, compared with eight out of 10 pupils who are not on free meals.
Jon Harper, managing director of Future Foundations, which will run the project, said: "We believe the American approach of providing a mixture of small group tutorials led by leading teachers and inspiring mentors over an extended period will have a measurable impact which will transform the students taking part."
Jane Willis, head teacher of the Nightingale Academy, which is hosting the project, said it was a great opportunity for the young people of the area to "have a real focus on closing the gap in attainment during the summer break".
Chairman of the Education Endowment Foundation Sir Peter Lampl said this sort of summer school programme had been shown to work in the US.
"All the pupils taking part will be monitored to see how much progress they have made during the four weeks. If the pilot proves successful, we will be expanding the programme to more locations in the summer of 2013."