Government plans new shake-up to university admissions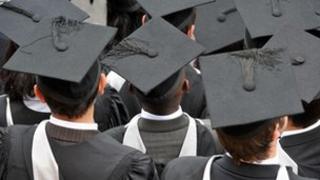 A body representing UK universities has warned it is vital that government plans do not end up reducing overall student numbers in the sector.
The government has announced English universities will be able to take unlimited numbers of students who achieve ABB in their A levels in 2013.
Ministers say this means more students will go to their chosen universities.
Universities UK is calling for a period of stability before more change is imposed.
This year the threshhold for unrestricted places for students in England was limited to those who achieved AAB.
Universities and Science Minister David Willetts said the reforms would put "choice and power in the hands of students".
"We are rolling back the controls on places at individual universities that have been a barrier to competition. Students will gain as universities attract them by offering a high-quality academic experience," he added.
Nicola Dandridge, Chief Executive of Universities UK said: "Lowering the threshold to ABB should mean that more students applying to go to university in 2013 are likely to secure a place at the universities of their choice.
"This is of course a good thing. However, it is essential that these changes are financially sustainable and do not end up reducing overall student numbers in the sector. Universities UK will be monitoring this closely.
"Universities UK has urged consistently for a period of stability in order to assess the effects of reforms taking place on student choice and on universities in 2012-13, and also the financial implications.
Sally Hunt, general secretary of the University and College Union said : "It seems very premature for the government to extend its AAB policy when we have yet to see the impact of it. This looks like the triumph of ideology over evidence based policy-making."
Number controls
The government also announced changes to the rules on the reallocation of places for students who achieve lower grades.
This year, 20,000 places for students who achieve less than AAB were stripped away from universities planning to charge more than £7,500 a year.
Universities charging less than £7,500 and further education colleges were then able to bid to offer degree places charging the lower amount.
This will happen again in 2013 but in addition a further 5,000 places will be up for grabs to institutions planning to charge under £8,250 a year.
Business Secretary Vince Cable said: "We are also increasing the number of places on courses which offer value for money, backing those universities and colleges which have focused on keeping their costs to students down."
The changes drew mixed reactions from other university leaders.
Russell Group and 1994 Group which represent research universities and tend to attract higher achieving students, broadly welcomed the plans though 1994 group warned that the effect of redistributing more places to lower cost providers would have to be carefully monitored.
Paul Tatlow, chief executive of the Million Plus group of universities said: "The extension of the student numbers market will create winners and losers among students.
"The Government should not rig the market in ways which will mean that universities adjust their prices or their size on the basis of the qualifications profile of the students they recruit."
Libby Hackett, Director of University Alliance which represents business focused universities said: "The changes announced today are a step in the right direction, increasing our ability to place students at the 'heart of the system'".
But Ms Hackett added that changes in grant allocations to the sector announced in January already meant that overall student numbers at universities would drop from September.