Playground trade 'drives smoking'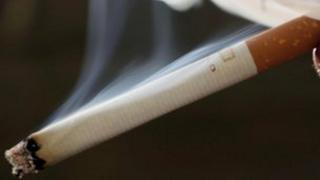 Breaking up illicit playground trading in cigarettes is a key to cutting smoking among the young, a study says.
Youngsters' access to cigarettes is often through peer networks at school, suggests research drawing on the habits of 9,000 young smokers.
The study from the Institute of Education, University of London, says efforts to stop smoking should tackle such "social sources" of cigarettes.
Researchers say this would reduce the "visibility" of smoking in young lives.
The study from the institute's Policy and Practice Information and Co-ordinating Centre looks at how to interrupt the process by which youngsters take up smoking.
The report, Young People's Access to Tobacco, examined how young people were likely to obtain tobacco from their peers.
Sharing the habit
Looking across the evidence of six studies, the researchers found that particular groups such as "occasional smokers", children in their early teens and girls were especially likely to be introduced to smoking through social groups at school.
This could be groups of friends who shared cigarettes - but it could also be youngsters who sold cigarettes at school for profit.
Such trading in cigarettes, whether for money or friendship, was seen as important in "bonding" among peer groups.
The study, headed by Katy Sutcliffe, says that "tough school policies" which can intervene to stop such tobacco markets were likely to help prevent youngsters from developing smoking habits.
"In many schools, children were found to share cigarettes quite openly, and some sell them to other students for profit," the institute reports.
There were other preferred routes to cigarettes for other groups, the study says.
Older children, boys and those with more developed smoking habits were more likely to get tobacco from shops, either in person or by asking someone else to buy for them.
These were identified as being more likely to be sweet shops, newsagents and convenience stores, rather than supermarkets.
The report argues that if schools can disrupt the exchange of tobacco among youngsters it will reduce the "visibility" of smoking in their lives - and this should make it less likely that children will take up smoking.
"If we can begin to tackle this visibility, this is likely to reduce smoking rates, which, in turn, will further reduce the visibility of the peer market in school and the socialising opportunities that the peer market provides," says the report.