MPs demand more robust school spending checks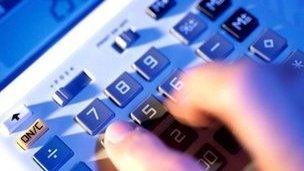 A committee of MPs says it fears the system for checking school spending in England is not robust enough.
The Public Accounts Committee says value-for-money checks on education and children's spending need improving.
And it says it is alarmed by reports of "worrying expenditure", such as high salaries for staff, in some academies.
The government says it is publishing more data than ever on how schools spend their money and this will improve accountability.
It says it is consulting on further measures, but that there is a balance to be struck between rigorous accountability and burdening schools with bureaucracy.
Last year, the Department for Education distributed more than £56bn to schools, local authorities and other public bodies for education and children's services in England.
Committee chairman Margaret Hodge said it was not clear how responsibility for ensuring value for money was divided up.
The report comes as the government presses ahead with moves to get more schools to become academies.
Almost half of England's secondary schools are now academies, which are funded directly from central government and are independent of local authorities.
Labour MP Mrs Hodge said: "As the government devolves the delivery of education and children's services in England, it becomes ever more important for the department to tell us exactly how accountability to Parliament is going to work so that we can properly follow the taxpayer's pound.
"We remain very concerned at the weakness of the proposed arrangements to ensure accountability for value for money."
The committee's report concluded: "The department needs to do more work to clearly define how funding streams will be monitored, audit arrangements, and processes to support whistle-blowers."
And the committee said it was "alarmed" by reports of "worrying expenditure" in schools, such as high salaries being paid to senior staff in academies.
It highlighted the case of the Priory Academy Trust in Lincolnshire, where the chief executive recently resigned from his £200,000-a-year post after an investigation.
The trust had employed his daughter and his son and he had used its credit card to buy personal items.
The MPs' report said: "We are concerned that the accountability framework is not sufficiently robust to address operational or financial failure of service providers".
Governing bodies of schools and academies have responsibility for ensuring there is good financial management and that they achieve value for money.
Local authorities oversee the financial management of non-academy state schools in their areas, while a separate body has this responsibility for academies.
Until April, this body was the Young People's Learning Agency (YPLA), but this has now been replaced by the Education Funding Agency (EFA).
The committee said it was concerned that respective responsibilities for value for money between the Department for Education, the YPLA and academies seemed "blurred".
The Department for Education says it is taking steps to improve accountability - and that by publishing more data on schools, people will be able to see how money is being spent.
"Local authorities are statutorily responsible for ensuring effective financial management in their schools and we are strengthening arrangements for the assurances they provide us with," a spokesman said.
"Academies have more rigorous financial systems in place than maintained schools, and have a statutory requirement to produce independently audited annual accounts.
"The department and Education Funding Agency challenge academies if they believe funds are being spent inappropriately."
Related Internet Links
The BBC is not responsible for the content of external sites.