Adoption: New scorecards attacked by council leaders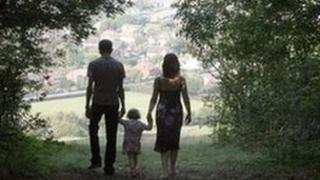 Council leaders have criticised new adoption scorecards which are being introduced in England in an effort to speed up the adoption process.
The government has begun ranking local councils on how long children in their care wait to be adopted.
It says the scorecards show "the extent and seriousness" of delays.
But three bodies representing senior council figures have attacked them, saying they could cause "unnecessary concern" and put people off adopting.
A joint statement from the Local Government Association, the Association of Directors of Children's Services and the Society of Local Authority Chief Executives says the data "fails to provide a sound basis for comparison" between local authorities.
"Councils are passionate about helping children and take their responsibilities towards those in their care extremely seriously," it said.
"The adoption scorecards have the potential to cause unnecessary and avoidable concern in communities where there shouldn't be any, and may put prospective adopters off.
"Councils simply cannot risk shifting their focus from the quality of placements to the speed of placements."
The government has made it a priority to try to shorten the time it takes for adoptions to go through, and to remove barriers to them.
Court delays
It says that on average, children wait about 20 months to be adopted from the time they are taken in to care, and that only four local authorities meet the current statutory target of going through this process in 14 months.
Last month, announcing its Adoption Action Plan, it brought in an interim target of 21 months and said this would be lowered to 14 months within four years.
Officials say 80 local authority areas met the interim thresholds (of 21 months from entering care to adoption and matching a child to a family within seven months of a court order being made), but 72 did not meet one or both of these.
They say there are wide variations in how quickly children are adopted in different areas.
The councils say most of the delays are due to court processes and that the data being collected is too blunt.
They say it does not take in to account different approaches by councils, factors such as how many groups of siblings are waiting to be adopted in an area (they are harder to place), whether the adoptions last or how well children in care go on to do in their education.
Progress
Children's Minister Tim Loughton said adoption could give vulnerable children the greatest chance of a permanent loving home.
"Hundreds of children are being let down by unacceptable delays right across the country and throughout the adoption process. Every month a child waits to be placed, there is less chance of finding a permanent, stable and loving home," he said.
There had been some "real progress", he said, with local authorities cutting adoption delays and helping to redesign a faster but thorough process for assessing would-be adopters, but the statistics showed the "magnitude of the challenge".
"I have been clear that we won't hesitate to intervene where the worst delays are not tackled effectively," he said.
"The scorecards are not the be-all and end-all or the final say. We are not asking local authorities to speed up adoptions to the exclusion of everything else - but many more areas need to strike a much better balance between quality placements and the risk of long-term damage to children by leaving them with uncertain futures."