England's schools should learn from Japan, says Twigg
By Hannah Richardson
BBC News education reporter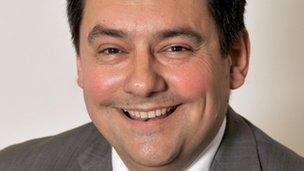 England's schools should take lessons from Japan and the Far East on how to improve performance, the shadow education secretary says.
Stephen Twigg says despite many school reforms, there has been little change to the style of classroom teaching since Victorian times.
Labour's number one priority for education is raising the quality and status of teachers, he says.
And he plans to visit Japan to see how education has been reformed there.
This will form part of Labour's review of its education policy.
Along with other Far Eastern countries, such as South Korea and Singapore, Japan constantly outperforms England in international studies on maths and science.
This is something that has been highlighted by Education Secretary Michael Gove.
Mr Twigg says that although Labour improved results in the core subjects during its time in office, it was clear that "more of the same isn't the answer".
He added: "We must learn from high-performing nations like Japan to radically transform education in England.
"Labour will bring reform into the classroom by learning from the Japanese system of lesson planning, known as jugyou kenkyuu."
This involves teachers meeting regularly to collaborate on the design and implementation of lessons.
He continues: "Education in England has had years of reform to structures, exams and accountability measures. But the style of classroom teaching has changed little since Victorian times.
"In Japan, teaching practices have changed markedly in the last 50 years, through a process of gradual, incremental improvements over time. Japan gives teachers themselves primary responsibility for improving classroom practice."
He highlights how participation in continual professional development, known as kounaikenshuu, is considered a core job requirement in Japan.
Mr Twigg also points out that in England, teachers lead students through a series of steps to help them learn how to solve problems.
In Japan the focus is on allowing students to develop their own methods for solving problems, through trial and error.
He adds: "If we want to change teaching, we can't just change teachers - we must change the culture of teaching, its very fabric and DNA."
Related Internet Links
The BBC is not responsible for the content of external sites.