Jaguar Land Rover and British Airways back new colleges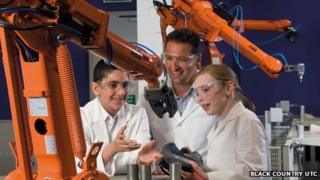 Jaguar Land Rover and British Airways are among major businesses backing 15 new University Technical Colleges (UTCs) approved by the government.
The colleges will work with local employers and universities in England to train more than 20,000 14 to 19-year-olds as engineers and scientists.
The aim is to teach technical skills alongside academic qualifications.
But teaching unions voiced fears that the new colleges could lead to a two-tier education system.
The latest colleges to be approved will join two that have already opened, three more due to open in September and 17 others still in the pipeline.
Business on board
Every UTC is sponsored by a university and local employers, putting work placements, guest speakers and a highly focused curriculum readily on tap. Some will operate in business hours to prepare students for the world of work.
Warwick UTC, sponsored by Jaguar Land Rover and the University of Warwick will specialise in engineering and digital technology.
Heathrow Aviation UTC supported by British Airways, Virgin Atlantic and Brunel University will focus on aviation.
Elstree UTC has the backing of top entertainment companies like Warner Brothers and Sony and will specialise in entertainment crafts and technologies.
UTC Cambridge will focus on biomedical and environmental science and technology and is supported by Cambridge University and an array of high-tech companies and research institutes.
The education minister Lord Hill said the new colleges would provide more choice for school pupils who could opt to join aged 14 or 16.
"Right around the country there is a lot of enthusiasm from employers, universities, pupils and parents for high quality rigorous technical education. They provide more choice for children as well as helping provide the kind of highly-skilled technicians our economy needs. The response from employers to UTCs speaks for itself."
Some teaching unions were less enthusiastic: Christine Blower, general secretary of the National Union of Teachers, said that in her view 14 was "far too young an age for students to be deciding what they are to do with their education or lives.
"Separating 'technical' or 'vocational' education from mainstream schools will lead to a two-tier system with technical schools being seen as the poor cousin.
"The NUT has long argued that all students should have access to a broad and balanced curriculum within a single diploma framework which embraces all young people and does not label them as one thing or another so early on."
Sally Hunt, general secretary of University and College Union, said: "University technical colleges are likely to offer similar courses and curriculum to existing further education colleges.
"At a time when our colleges are facing huge cuts to their budgets it is essential that vital funding is not diverted away from institutions already providing key vocational training."
"There is also a danger this UTC programme will increase divisions in 16 to 19 education and training at a time when the introduction of academies and free schools are already fragmenting local provision."
The two UTCs which are already open are the JCB Academy in Staffordshire and the Black Country UTC in Walsall. Three more are due to open in September in Birmingham, London and Bedfordshire.