Charity calls for school suncream advice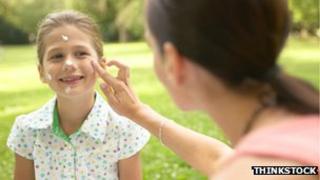 A health charity is urging the government to give schools in England advice about the use of suncream to stop children getting sunburned.
The British Skin Foundation says pupils are left vulnerable as schools do not have policies on the responsibility for sunscreen reapplication.
The BSF is trying to get 100,000 signatures on an e-petition to trigger a debate in the House of Commons.
Official guidance says suncream should be reapplied every two hours.
A survey of 1,000 parents, commissioned by MPs on the All-Party Parliamentary Group on Skin in 2011, found almost 40% of pupils had got sunburnt while at school.
Outdoor breaks
The chief executive of the British Skin Foundation, Matthew Patey, said there was confusion over who was responsible for making sure children were protected during school hours.
"It's understandable that parents are concerned, especially when you consider how much time pupils spend outdoors during breaks and lunchtime.
"When responsible parents dress their child appropriately for the sunny weather and apply sunscreen, they are still faced with the conundrum of reapplication later in the day.
"Until this issue is resolved, children will continue being hurt unnecessarily.
"Our biggest aim with the petition is to stop children from burning."
Common sense
A Department for Education spokesman said: "It's down to schools to use common sense and judgement when applying suncream to pupils so the warm weather can be enjoyed safely.
"Many schools have policies which allow teachers to apply suncream in hot weather, while others request that parents do this before their child comes to school."
Ken McAdam from the Association of Teachers and Lecturers said: "Parents should make sure their children go to school wearing appropriate clothing to protect them against harmful effects of the sun, and with sunscreen applied if necessary.
"Schools have a duty of care to their pupils and should agree a policy with parents on who applies sunscreen to children while they are at school, and in what circumstances."
Advice from the National Institute for Health and Clinical Excellence (NICE) says schools should encourage children to seek shade whenever possible, particularly when out playing in the midday sun.
It says sunscreen (with a sun protection factor of at least 15) should be applied liberally half an hour before and after going out in the sun, and reapplied every two hours thereafter.