Smaller institutions eligible to become universities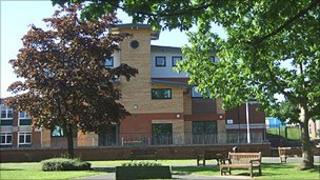 Up to 10 smaller higher education institutions in England are now eligible to become universities under government changes announced on Monday.
The number of students required for a university has been reduced from 4,000 to 1,000.
But the government has been criticised for not introducing primary legislation in its reforms of the higher education sector.
Labour called the plans "nothing more than small technical details".
The announcements came in a ministerial response to the Higher Education White Paper from David Willetts, the Minister for Universities and Science.
'Red tape
Mr Willetts described the change to the status of small higher education institutions as "broadening the range of institutions that can be called universities and tackling a long standing grievance".
"It is right to remove the red tape stopping good quality smaller higher education providers calling themselves a university."
The change affects 10 institutions which already have degree awarding powers in specialist areas such as the arts, agriculture or teacher training.
These range from The Royal Agricultural College, Norwich University College of the Arts and Newman University College in Birmingham.
Mr Willetts said that if the colleges decided to go ahead with the change to university status it could be in place by the autumn.
The principal of Newman University College, Professor Peter Lutzeier, said: "The change corrects an anomaly in the system and will help reduce confusion surrounding the nature of university colleges."
Andy Westwood of Guild HE, which represents the smaller specialist institutions also welcomed the announcement: "Smaller institutions have long offered greater agility, smaller classes, stronger graduate employment and better retention rates."
In the statement Mr Willetts also announced the government's intention to pursue its reform agenda through non-legislative means.
Other measures included a consultation on plans to include colleges without funding council support in the student number control system and a review of quality assurance when universities validate degrees offered by colleges.
Labour's Shadow Minister for Higher Education, Shabana Mahmood said the plans "will do nothing to reduce the chaos and uncertainty that universities and students are facing".
Ms Mahmood added that the absence of a Higher Education Bill meant "that the government are unable to make many of the changes that they have been talking about, causing yet more confusion".
Liam Burns, president of the National Union of Students said: "Tuition fees triple from September yet the government has decided to avoid protections for students when things go wrong, dodge real regulation of for-profit universities, and all but give up on improving teaching quality.
"It also continues to refuse to guarantee the terms of student loans into the future, reserving for itself the right to make terms worse without parliamentary scrutiny.
"This lamentable response from a government terrified by public or parliamentary scrutiny of its higher education reforms is an insult to students and their families."