University complaints rise by 20%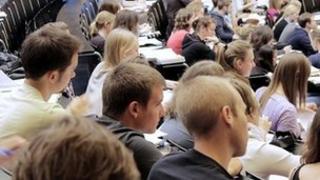 Complaints by students against universities in England and Wales have increased by 20%, according to the official adjudicator.
The Office of the Independent Adjudicator's annual report for 2011 shows complaints increasing for a sixth successive year.
Disputes over plagiarism have helped to drive this increase, says the report.
The National Union of Students called for less "confusion" for students over how plagiarism is defined.
The adjudication body received 1,605 complaints last year - with 16% of these deemed to be either fully or partially justified.
Consumer pressure
The annual report observes that this continues an upward trend in the numbers of complaints.
These complaints are from the last year before tuition fees are increased to up to £9,000 per year - when it is expected that students will become even more demanding consumers.
Adjudicator Rob Behrens predicts that the increase in complaints is "likely to be accentuated" when fees rise this autumn.
The report says the complaints from 2011 show concern over plagiarism - and how such cheating is defined. It says there is "ambiguity", such as what level of assistance is permitted for a postgraduate thesis.
The vice president of the National Union of Students, Pete Mercer, called for more clarity over the rules surrounding plagiarism.
"For new students, particularly those coming from abroad, what constitutes plagiarism can vary and proper training and picking up minor infractions early on can help students to know exactly what is expected of them."
There were higher levels of complaints from students in some subjects, such as law, medicine and dentistry.
Universities UK said there was "no room for complacency" but the number of complaints upheld had fallen - even though there had been an increase in overall complaints.
"Put in context, we are talking here about 224 complaints from a student population of 2.2 million students in England and Wales," said Eric Thomas, president of Universities UK.
The scheme operated by the independent adjudicator only covers specific types of complaint - and cannot look at "academic judgments", such as how students are assessed, the content of courses or admissions decisions.
But the adjudicator can consider issues such as discrimination, university facilities and services, accommodation, maladministration and disciplinary procedures, such as over cheating and plagiarism.
Before bringing a complaint to the adjudicator, students must have exhausted the internal complaints procedure of the university.