Council cuts prompt call for social spending reform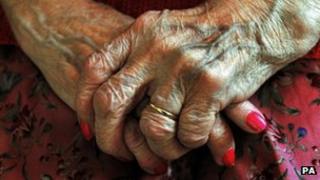 Local authority spending on elderly and disabled care is being reduced by nearly £900m this financial year, a survey has suggested.
The Association of Directors of Adult Social Services' survey of councils found most savings were from increasing charges or redesigning services.
But it said front-line care had also been cut and funding reform was needed.
The government said extra funds had been allocated for social care and that councils were spending in smarter ways.
Each year the Association of Directors of Adult Social Services (Adass) asks councils in England how much money they are spending on caring for elderly and disabled people.
The survey, conducted in April and May 2012, shows this financial year budgets have been reduced by £890m.
It shows in the past two years, nearly £1.9bn has been taken out of services, such as home support, care homes and preventative help.
That is despite a growing number of people needing care. Eighty-five per cent of the savings come from redesigning services and increasing charges, but nearly 13% come from cutting services.
'Smarter spending'
The Department of Health said the headline figure was not a cut but demonstrated that councils were spending money in smarter ways.
But the association said social care was right on the edge.
ADASS president Sarah Pickup said while councils were striving to protect front-line services some were still having to "resort to reductions in services to balance their budgets".
She said there was pressure from providers to reflect rising costs in the prices councils paid for care, that charges to people who used the services were often at their maximum, and there was rising demand and "downward forward trajectory for councils' funding".
"It could not be clearer that there is a desperate need for politicians from all parties quickly to find an answer to how we, as a nation, are going to adequately fund social care services in the future," she said.
Ms Pickup said if a sustainable funding system was not put in place there was a "real risk" that access to care would have to be restricted.
"No-one expects an immediate and complete solution," she said.
"But putting in place the architecture of a new funding system and looking at how we can shift the balance of current public spending to ease pressure in the sector is work that needs to start immediately."
Adass surveyed all 152 social services authorities between April and May 2012. It received completed questionnaires from 95% of the authorities.