Birthday Honours: 'Super head' knighted by the Queen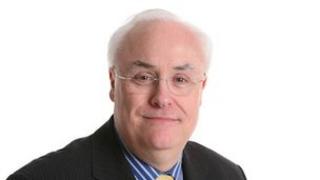 A so-called "super head" who helped turn around the fortunes of London's primary schools has been knighted in the Queen's Birthday Honours.
Robin Bosher oversaw a successful school improvement programme, London Challenge, for five years, and ran three primaries as an executive head.
Fourteen other heads are also recognised with two CBEs and 12 OBEs.
Singled out for an MBE is social area supervisor at Franklin Sixth Form College in Grimsby, Doreen White.
College principal Trevor Wray said of Doreen: "The college is 21 years old and Doreen's been with us all that time.
"She's got a fantastic relationship with the students. They've built a website dedicated to her in the past and they recorded a karaoke song for her when she was ill recently.
"She's a confidante and a friend to the students. She's worked with all sorts of people over the years. She is brilliant at helping the teachers to build relationships with young people."
'Humble approach'
Sir Robin told the BBC he was very surprised to be recognised with a knighthood, adding: "It's a great honour."
"I've been very fortunate to be a head teacher for 24 years. It's been a huge pleasure to have so much influence over children's lives and to help transform them."
Sir Robin had spearheaded improvements at Fairlawn Primary School, in Lewisham, when he was asked to take on the executive headship of two other schools in the area.
Both Haseltine Primary and Kilmorie Primary were schools in "the most challenging circumstances," said Sir Robin.
He went on to run the three as a federation, appointing a head of school in each primary, but leading the standards-raising agenda himself in all three.
He had a similar role at the London Challenge programme, between 2006 and 2010, but on a larger scale.
The programme worked through head teachers in under-achieving schools being supported by those in more successful schools.
Sir Robin said it was his job to make these sometimes tense relationships work and puts his success, both here and in his own schools, down to "maintaining a humble approach".
Academies
But he has recently left his post as executive head to become director of primary education at the Harris Federation of academies.
The chief executive of the federation, Dr Daniel Moynihan, also a former head teacher, receives a knighthood as well.
The Harris Federation is a London-based charity that sponsors 13 academies across the capital.
It said: "They tend to be in inner city areas serving some of London's most deprived children but the results have been excellent: of the 11 Harris Academies so far inspected by Ofsted, nine have been given the highest possible rating of outstanding."
Federation chairman Lord Harris of Peckham said: "Through him, the federation has grown into the most successful academy chain. I am delighted for him to have been honoured in this way.
"It is thoroughly deserved and a wonderful recognition of his ongoing work in education."
Another champion of the academies programme, Peter Birkett, the chief executive of Luton's Barnfield Federation of schools and colleges, is also knighted.
In September 2007, Barnfield became the first further education college in England to sponsor two under-performing secondary schools, create academies and form a federation.
Since this point GCSE results have more than tripled in both academies and from a position of special measures, they are now judged as outstanding and good by Ofsted, says the federation.
Sir Peter said he was "privileged and excited to receive such an honour, it was both a wonderful surprise and also a real shock!"
It had always been his ambition to create great schools and colleges to give all young people the very best opportunities - regardless of background, he said.
Meanwhile, four academics from Cambridge University are also recognised.
Professor of history Richard Evans and Professor of mathematics Timothy Gowers receive knighthoods, while Professor Mary Jacobus and Professor David Newbery become CBEs.