Tougher A-levels to allow fewer re-takes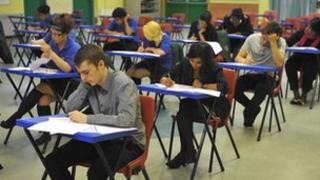 A-levels should be strengthened by only allowing one re-sit, replacing "modules" with end-of-year exams and increasing university involvement, says the exam watchdog, Ofqual.
Ofqual chief, Glenys Stacey, says too many re-sits by pupils can "devalue individual exams".
There are also questions over whether AS-levels should be scrapped.
The A-level reforms will mean "higher education becomes more involved", says Ms Stacey.
Ofqual is setting out proposals on changes to A-levels, which will be open for consultation for three months.
If the proposals are adopted, the first changes would be applied to A-level courses beginning in September 2013 - with pupils taking reformed exams in summer 2015.
Changes to content would be introduced from September 2014.
'Gold standard'
This "gold standard" qualification is taken by pupils in England, Wales and Northern Ireland.
The exam watchdog is suggesting a shift away from a "modular" structure - and a reduction in the opportunities for pupils to keep re-taking exam components to push up their grades.
The proposals call for an end of the January exams and puts forward the option of only allowing one re-take for AS and final A-level exams.
This would mean that there would only be one set of exams each year, in the summer term at the end of each of the two years.
Ms Stacey says this would "re-balance the emphasis of A-levels onto the learning rather than the assessment".
The role of AS-levels remains open to debate - with questions raised about whether they should continue in their current form.
Ofqual says it is "neutral" on the future of AS-levels and sets out three options - scrapping them altogether, keeping them in their current form or turning them into a standalone qualification which did not contribute to the A-level.
If AS-levels were to be scrapped, it would mean A-levels returning to a two-year course with a final set of summer exams.
Degree ready
Brian Lightman, leader of the ASCL head teachers' union, called for more debate about the value of the modular structure.
"It is simplistic to say that a course done in modules is easier than one with terminal exams. Nearly all university courses are modular and I have yet to hear criticism that they aren't rigorous enough," said Mr Lightman.
Education Secretary Michael Gove wrote to Ms Stacey earlier this year, calling for universities to become more involved in A-levels, so they could better prepare students for degree courses.
The proposals set out by Ofqual say that universities should be engaged in the content and design of A-levels - and that the qualifications should have the support of at least 20 universities.
Responding to the changes, the Russell Group of leading universities said that A-levels were "broadly fit for purpose" - but the changes would be beneficial.
Wendy Piatt, the group's director general, said the culture of re-sits was fuelling "grade inflation" - and so supported limits on re-taking exams.
She also supported a move away from a modular approach to teaching and testing - saying that pupils could arrive at university still expecting to be "spoon fed".
The Russell Group has also voiced concerns about the lack of rigour in some subjects, such as maths and English.
Pam Tatlow, chief executive of the Million+ group of universities, said that the level of engagement in A-levels expected of universities would require a "co-ordinating body".
Ms Tatlow also said that the qualification would lose credibility if approval was limited to only a "small sub-set" of universities.
Neil Carberry of the CBI said that employers would also want to see their needs reflected in changes.
"The focus needs to be on making A-levels more challenging, to ensure that young people are not just better prepared for university, but are also well-equipped for work."