Name-calling 'common' in schools, say inspectors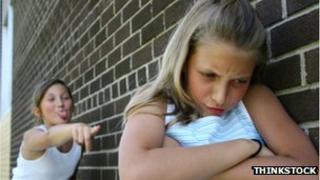 Name-calling is rife in many schools in England, but is often dismissed as "banter" by children and staff, an Ofsted report into bullying finds.
Inspectors found words such as "stupid", "idiot", "mong", "spaz" or "spazzer" were used when pupils struggled with work or a sport.
And terms like "gay", "slag" or "slut" could be used against classmates.
The report, based on visits to 56 schools, said teachers were not always aware how often such "banter" was used.
In discussions with around 2,000 pupils and teachers, inspectors found pupils admitted to using language they knew was inappropriate.
The report noted many of the pupils questioned knew that using derogatory language was wrong because it hurt people's feelings and made them upset or angry.
'Gay'
Ofsted warned that "gay" was often used as an insult, with one secondary school pupil saying it was used to mean "rubbish".
School staff also said that the use of the word "gay" was a "common issue".
The report said the views of some pupils was particularly worrying.
It said: "In two of the primary schools and 11 of the secondary schools - although pupils knew that certain language was generally inappropriate - if the words were used between friends they were seen as 'banter' or 'just joking' or 'messing about', which pupils thought made their use acceptable.
"This generally did not extend to racism (which was almost universally seen as the worst insult and as unacceptable) but always included 'gay' and 'lesbian' and often included words related to disability and appearance.
"For a few pupils even racist terms were seen as acceptable 'between friends'."
Susan Gregory, Ofsted director of education and care, said: "Schools must develop a positive culture so all pupils learn in a happy and safe environment.
"Teachers should receive the right training and support so they have the skills and confidence to teach pupils about diversity and the effects of bullying."
'Untold misery'
Brian Lightman, general secretary of the Association of School and College Leaders, said bullying could cause "untold misery" for young people.
"This is a helpful report and although many of the findings will not come as a surprise, it will allow schools to review what they do against the best practice it identifies."
Christine Blower, general secretary of the National Union of Teachers, said: "There needs to be the time devoted in the curriculum to preventing bullying through challenging negative attitudes."
Peter Liver from the National Society for the Prevention of Cruelty to Children (NSPCC) said bullying was "still a big problem for children in the UK".
"Though many schools now have anti-bullying policies, this report shows that these are only as good as the staff's ability to carry them out," he said.
"Unless teachers are given the skills and confidence to tackle bullying, for many children school will continue be a place to fear, not a place to learn."